January 2015 - 3 Night Bahamas (Miami Roundtrip) Cruise on Majesty of the Seas
"Last Sail Before the Veil" on Majesty of the Seas!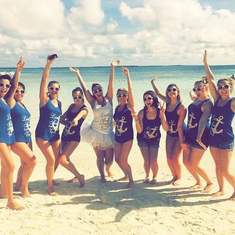 I went on the 3-day cruise from Miami to Coco Cay and Nassau, Bahamas as part of a birthday/bachelorette weekend. I have traveled on several cruises growing up as a kid and teenager, but this was my first cruise with a bunch of girlfriends and we had a blast!
We were super impressed with the entertainment. We participated in trivia, the Battle of the Sexes game, went out dancing in the club every night, saw a stand-up comedy show, hung out in the casino, watched all the fun poolside games, sang karaoke, and overall tried to experience as much of the entertainment as possible which I thought this ship really excelled in. I wouldn't say it was a party cruise, but we felt like there was a significant amount of people our age so it was fun to make new friends and see them doing the same activities every night.
We also all loved Coco Cay, which is Royal Caribbean's private island. It was really beautiful and relaxing and one of the highlights of the trip.
The one part of the cruise that was lacking was the quality of the food. There were a ton of options, but I never had a meal where I thought "Wow this is SO good!" Everything was just average. Luckily, as a bunch of girls in our mid-20s we were more interested in being in the sun and the nightlife :)
We also all decided to get the drink package for $50/person for unlimited drinks which was also worth it for us - plus the drinks are strong! For those who are younger and going with a bunch of friends to party, I definitely recommend a 3 or 4 night cruise...we were so exhausted by the last day of the trip (but in a good way!)