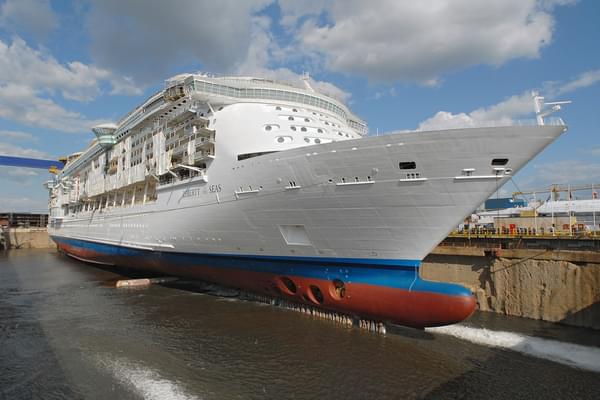 March 2016 - 7 Night Western Caribbean (Galveston Roundtrip) Cruise on Liberty of the Seas
Many ups but one major down.
Overall we had a blast. The cruise director, Amy, and her staff are top notch. We met and chatted with the Captain too. Staff and crew seemed very well trained and happy~ take in to consideration that this was on the front end of their tour of duty and right out of dry dock. The recent $5 million renovation focused on the kids section mostly. I'd hoped for freshened staterooms but only the pricey ones were effected. Ours looked fine, but the bathroom was a little rough around the edges.  One one major downer was that the Chef's Table did not take place in a quiet alcove of the Chop's specialty restaurant as advertised.  We were sent invitations to gather at the Vintages Tavern. Upon arrival we were served champagne ( to soften the blow?) then led up to the Windjammer Cafe (the loud buffet dining hall where we ate regularly) and ushered to a corner where they had gathered several tables together to make one long table. Despite it being well set and decorated, the disappointment for everyone was very obvious.  A small jam box played pop tunes but it couldn't cover up the banging and clanging of dishes in the nearby kitchen. Once the initial shock was over the wonderful waiter/Sommelier began our tour through six wonderful courses and the chef explained each one with the wine pairing.  Generous servings of delicious fare and wine as well as interesting conversations with the other guests helped fade the disappointment for us.  However those guests who had experienced the Chef's table on other ships had a LOT of feedback to share with the staff afterwards.  Later we heard that the Chef's table program was instigated on the Liberty of the Seas AFTER the dry dock renovations and no special venue was provided. So kuddos to the staff for making the best of an awkward situation.  Tips: take advantage of the extra seats available at the first (must-see)  Ice Show performance.  Rocky seas could cancel the later performances. On your first day be prepared to stand in line for 90 minutes upon arrival at terminal.  Renovations are causing major delays. When reporting to your muster station for the required safety drill bring earplugs~ the announcements were killer loud. The Big Band performance of the RC Orchestra, and the comedian were highlights for us.  In Grand Cayman take the local bus (two blocks from the ship by the library) up to Royal Palms for the day. Go early and  you'll have the gorgeous beach to yourself. ($2.50/person bus, $2 entrance to resort.)On your last day be in your assigned departure venue by 7:20am and carry your luggage off yourself ~ we were in our car and on the road by 8am!