July 2014 - Oasis of the Seas to Caribbean - Western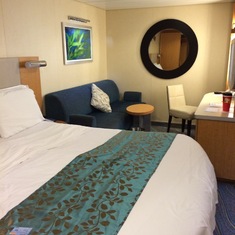 This was by far the absolute most incredible vacation I've ever had in my life!! I'd been on cruises before, but this was my first time with Royal Caribbean, and it definitely did not disappoint.
Things I loved:
- THE CREW! They are the sweetest people I've ever met! They're all so grateful for what they do and they offer excellent service. The entertainment and cruise activities staff are so much fun!
- so many amazing things to do on board: rock climbing wall, zipline, Flowrider, ice skating, putt-putt, ping-pong, not to mention all the planned activities that are available!
- a variety of restaurants that are included in your cruise price: the main dining room, the Cafe Promenade, Sorrento's Pizza, the Boardwalk donut shop, Johnny Rocket's (breakfast is free), the Windjammer (buffet style), the Solarium Bistro (breakfast and lunch is free), and the Park Cafe!
- the dining staff does a wonderful job of meeting dietary needs - I am gluten-free and they always made sure I had what I needed
- the shows are top-notch, really talented people - we saw Hairspray, an acrobatics/music show, and the ice show (my favorite part of that was the sand artist!)
Here's what I would plan for differently next time:
- the shows fill up so fast and even though I reserved them online ahead of time, I guess I didn't do it early enough, because we had to miss a couple shows due to our dinner time overlapping with them
- if we wanted to go to a somewhat decent comedy show (for the record, the "adult" version is much worse than the PG-13 I was expecting), we would have had to skip dinner because that's the only time it was offered
Overall, I have no complaints and would absolutely do this cruise again in a heartbeat! I wholeheartedly recommend the Oasis for your next vacation!!