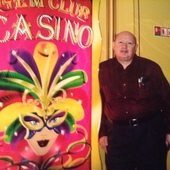 melhammers
Brooklyn New York 11214
Joined 04/2014
Upcoming Cruises
Past Cruises
October 2017 - 7 Night Bahamas & Florida (New York Roundtrip) Cruise on Norwegian Breakaway
March 2017 - 10 Night Eastern Caribbean (New York Roundtrip) Cruise on Norwegian Gem
March 29 Norweigian Gem Carribbean cruise
Just returned from 10 day Carribbean cruise on the Gem. The staff was very friendly , the entertainment on most days was excellent but the food in main dining room, buffet and specialty restaurants was not good at all. It needs major improvements. 
November 2016 - 11 Night Eastern Caribbean Carnival Journeys (New York Roundtrip) Cruise on Carnival Vista
March 2016 - 10 Night Eastern Caribbean (New York Roundtrip) Cruise on Norwegian Gem
March 22,2016 gem cruise
we were not allowed to board until 2 pm due to many guests with gastro sickness on previous cruise. We did nor leave port until 6 pm.  We were not allowed to serve ourselves until the evening of the ninth day. We had to ask for everything in the buffet.even salt and pepper. Room service which used to be free now is $7.95 per order if you did not order specialty dining before cruise there is now an ala carte menu. 
October 2015 - 10 Night Eastern Caribbean (New York Roundtrip) Cruise on Norwegian Gem
Carribbean cruise with Norweigian Gem
I have been on the Gem six times and lately the food is going downhill. Now in order to get dishes that were previously included like lobster tails and escargot yoy have to go to a speciality restaurant and pay $20 to $30 extra per person and even then the food is not great plus even in the specialty restaurant some dishes have an extra charge. In addition it's bad enough that Norwegian raised the tips (service charge) twice in one year and you still have to pay an addional gratuity of 18 percent in the speciality restaurants. This is like double tipping because when you are eating in a speciality restaurant you are also tipping in the dining room where you are not eating.  The excursions are very overpriced. They even discontinued a simple dish at the pasta station like spaghetti and meat sauce. Why?  They should also have trays in the buffet like some other cruise lines have 
Cruise Tips
Norwegian Gem
Be aware that there is a service charge of I believe is $7.95 every time you order food or beverage to be delivered to your room
Norwegian Gem
There should be more places to smoke. One side of the pool deck should be for smokers like it used to be. Cigar smoking should not be allowed anwhere
Norwegian Gem
The soups in the Buffet were terrible. Please improve on them. Please include spaghetti and meat sauce at the pasta station like you used to have on all my other cruises on the Gem. Please include Chinese dishes in the Buffet
Carnival Splendor
Food in the buffet was not good