December 2014 - 7 Night Eastern Caribbean (Ft. Lauderdale Roundtrip) Cruise on Ruby Princess
Christmas in the Caribbean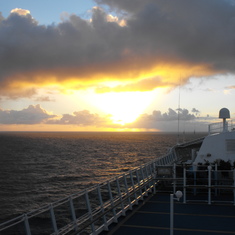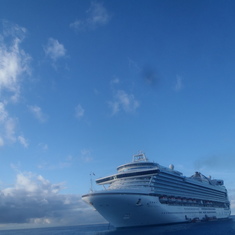 This was my first cruise, so I can't compare to anything else and I was unsure if I would like cruising... BUT.....
.We had an amazing time on our cruise! The Ruby is beautiful, and the holiday decorations just added to it!! The ship is clean and well maintained!!
We ( 8 of us aged 12-79 yrs old)  were at the port and boarded within about 20 mins of arrival. Our inside cabins were bigger than expected, and very clean.
We found the food to be  very good and a huge variety. The buffets were good, only ate there for breakfast and lunch, as well as late night binging!!!   In  the Michelangelo's dining room, we received EXELLENT service from Anthony ,& Tirso. They are a great team, and at the top of their game, when it comes to full on service. We ate so much, and enjoyed just about all of it!!! Crown Grill was delish, and we ate  6 courses of great food!!
In general the staff was informative and helpful at every turn.  We were greeted warmly and made to feel very welcome.
We did not book excursions, as the research I did before our trip showed it would be cheaper to cab it  to our desired destinations on the islands we visited. For our taste the excursions were to restrictive .  We like to experience island life like the locals do .  We wanted to hit the beaches, and eat locally, and were able to meet up with friends in St. Maarten. We loved each port, for various reasons, and had a great time in each.
Our days at sea were very enjoyable, we had beautiful sunny weather. Loved the music by the pool, or you could watch movies at another pool all day. Movies under the stars were amazing. We were served popcorn, pizza, and cookies and milk!
The entertainment staff was fun, and had activities for all. The shopping deal on the ship were good ( if your into that sort of thing). Was able to pick up souvenir T-shirts etc. for $10
My husband was invited to sing in the Wheelhouse pub, and also entered and won the Karaoke competition!!  
We put deposits down on  a future cruise, can't wait to book it!
We were treated like royalty, for a week, and it was so hard to come back to the cold hard reality of a Canadian, winter