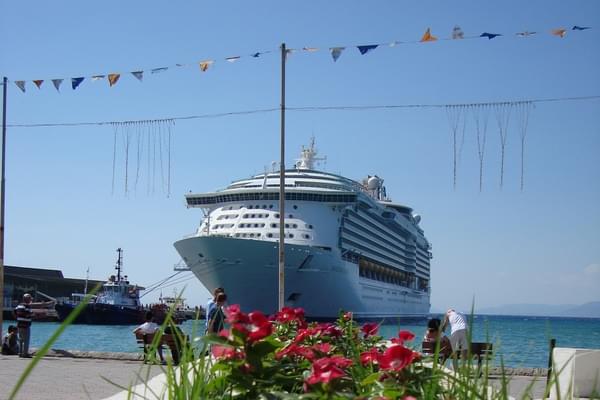 November 2014 - 7 Night Western Caribbean (Galveston Roundtrip) Cruise on Navigator of the Seas
First time Cruisers
I have nothing to compare this cruise with, so bare with me. I thought the ship itself was beautiful. We spent a lot of time at the pool, pool bar and Skybar above the pool. Franklin and Samson were great bartenders!! I never had a problem finding chairs at the pool. The only complaint I had is that there wasn't a lot of entertainment by the pool.
The comedy show was okay. Comedy like food is subjective, so others may disagree. I never made it to any of the other shows. The casino was fun and the smell of smoke is definitely present but not so much that I couldn't breath. I'm asthmatic and it didn't bother me. The promenade shops were nice. I purchased a beautiful new hand bag.
We had my time dining. So we ate at our convenience and never had to wait. The dining room food was delicious the two nights we ate there. The windjammer had brisket on the first day and it was great!! After that it was okay, pretty much the same everyday. We enjoyed Johnny Rockets Twice, It's hard to mess up burgers and fries. Sabor is good, but when you come from a Latino family Upscale Mexican food has to be exquisite for me to give it 5 stars, I would give it a 3.
Chops was delicious! I had a filet and my hubby had a lobster larger than a small child. Izumi was also good, I would give it 3 stars because service was extremely slow. I ordered room service on a couple of nights and it was typical room service food. The café Promenade was also good for snacks.
Our stateroom was an Aft Starboard Balcony #8352. Our cabin steward was Dee and she was great! This cabin was large enough for 2 people, I couldn't imagine anymore than that. I took an over the door shoe hanger for organization and never had to use it. There is plenty of storage between the bathroom cabinets, vanity cabinets and the closet. There is plenty of room under the bed for your luggage .Leave your hair dryer at home. The one provided worked perfectly for me and that was  a concern for me pre-cruise. You will need some type of power strip if you have more than a few electronics.
We enjoyed all 3 ports. I had read so many negative reviews about Belize that I almost stayed aboard the ship that day. I'm so glad I didn't. We hired a private driver for the day and he was so friendly, had a clean well maintained vehicle and took us to Altun Ha, a short city tour, a little shopping and we were back on board by 3:00p.m.
Roatan: We spent the day with some new friends at Bananarama in West Bay. The drinks were weak, but the food was good. The 1 negative here were people selling everything from Conch shells, wood ice buckets, hammocks, hair braiding, massage, and jewelry. They were persistent  and I'm surprised that the management allowed this.
Cozumel was really beautiful. We spent the day at Mr. Sanchos. Unfortunately I wasn't feeling well on this day so I can't comment on the food or drink. I sipped on Sprite all day. The water is gorgeous and if you enjoy snorkeling there are fish right there. I did some shopping near the port and bought some beautiful new boots. Don't pay the ticket price. They will haggle with you.
My overall experience was good. I enjoyed meeting so many new people. Leaving from Galveston wasn't nearly the nightmare that many make it out to be. We left our hotel at 10:00a.m. and were onboard by 11:00 a.m.. Disembarkation wasn't quite so smooth, but we waited until everyone else was off the ship. I've already scheduled another cruise, January 2016, Oasis of the Seas!