January 2016 - 7 Night Eastern Caribbean (Miami Roundtrip) Cruise on Norwegian Escape
New Ship ESCAPE with FREE Drinks & GREAT specialty restaurants :D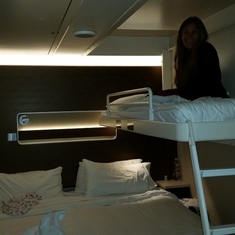 I was most looking forward to getting on this new ship, the escape first set sail around October 2015.  I was hoping for that new ship smell.  I had already cruised 2x with NCL, and enjoyed the UBB aka free drinks both times, although they are still working out the kinks.  This time UBB process was much better and less hassle than the last 2 trips.  Either way definitely worth the extra fun and no huge bill at the end. 
No new boat smell, although the ship is beautiful.  I prefer the EPIC, similar size, way better shows and less sea motion overall.  Both trips had pretty calm seas, but on the epic you couldn't even tell you were on a ship.  The ESCAPE is taller and skinnier which I think must be the reason for the swaying.
A few shows were great, I'd recommend paying the extra 30 or 40pp and do the dinner shows - the Rat Pack, they are always worth it.  I was initially on the fence about this one but am glad we went, it was really well done.
I also like the comedy shows and dueling pianos and the million dollar quartet, that being said the big shows were just a bit better on the EPIC.