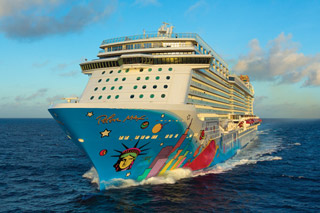 December 2015 - 7 Night Bahamas & Florida (New York Roundtrip) Cruise on Norwegian Breakaway
mediocre
We chose this cruise as it had several days at sea and it stopped at a private island.  We wanted to be entertained by shows and eat great food.  
Pros:
We were pleasantly surprised with the size of our inside cabin and pleased with our room steward. The food in the specialty extra cost restaurants was very good.  The teppanykai was a great time, the steak house was excellent and the french bistro was wonderful. The Vibe(extra charge)was a great way to unwind as most of the passengers aboard the Christmas cruise were families so they could not belong to it.  The shows that were fee free were well done.  The ice bar (extra charge) was a very unique experience.
Cons:
The food in the main dining was poor and we named the buffet the 'trough'  as the food was of low quality and overly carbohydrate laden.
We felt 'nickel and dimed' by all the extra costs while aboard the ship..shows, group exercise classes, many of the activities, etc.  The upper decks were closed much of the time while 'at sea'.  Though, curiously were opened after we complained to guest services. The smoking in the casino wafted throughout the other public areas. Smoking on the pool deck is in the middle thus spreading the smell around the area.  We did not get to experience the private island as the tenders were not 'safe' that day as it was deemed too rough.