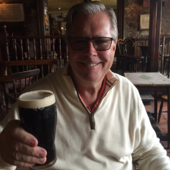 kenthompson527
San Antonio, TX
Joined 10/2015
Past Cruises
August 2018 - 9 Night Italiano Avventura (Venice To Rome) Cruise on Crystal Serenity
August 2017 - 12 Night Across The Bay Of Biscay (London To Lisbon) Cruise on Crystal Symphony
July 2016 - 14 Night Grand Britannia (London Roundtrip) Cruise on Crystal Symphony
Excellent Itinerary for Exploring Ireland & Scotland and a Great Ship.
Overall, can't say enough great things about this itinerary and the Crystal Symphony team.  While the staterooms are a bit tired, the staff more than offsets this with their dedication to service and excellent food, beverage and entertainment experiences. The liquor and wine, included in the fare throughout the ship, we're all top shelf. 
You won't go wrong with this itinerary if you want to get a great taste of Ireland, Northern Ireland, Scotland and the Channel Islands.  My recommendation is to book your tours on your own as the savings will help off set the cost differential for those upgrading from mid-tier cruise lines to luxury cruise lines.
Cruise Tips
Portree, Isle Of Skye, Scotland
This was a first call by Synphony to Isle of Skye and was among the best ports of call. No better scenery can be had in the hills and coast of Skye.
Kirkwall, Orkney Islands, Scotland
We found the people here less than friendly and we understand that Crystal will not be returning in future years ... A good decision. If you find yourself here Skapa and Highlands distilleries are interested. Do not go to the "Merchant Bar" in town ... The people are totally unfriendly and may well ruin your visit to Kirkwall.
We were able to engage a private car in expensively in this port. Do visit Bushmill's, but the Giant Causeway was a major let down and burned up a bunch of our time in this port. If you are not afraid of heights do the rope bridge. Be sure to experience the Crowne Bar!
Great town ... Especially if you are a beer and Beatles fan. Wonderful pubs/bars to relive the Beatles early years. Here you can also take in all attractions on your own and purchase tickets in advance online.
You can do this port on your own and save money booking your tickets for the Waterford House and Waterford Museum on your own.
Crystal Symphony
Don't miss casual dining in the Lido Cafe. It is only offered a few nights of any itinerary at present. It is not a buffet, all meals are prepared in the Cafe and the preparation was among the best meals we enjoyed.