December 2015 - 9 Night Southern Caribbean (Ft. Lauderdale Roundtrip) Cruise on Serenade of the Seas
Warm, relaxing and rejuvenating on the Southern Caribbean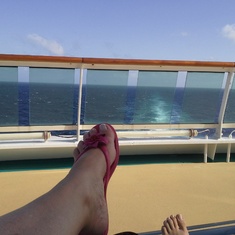 We chose this cruise for its southern caribbean itinerary to assure a warm, sunny trip. It did not disappoint. Aruba, Bonaire and Curacao delighted us.
We were celebrating our 25 year wedding anniversary, so we splurged on the superior bacony cabin. This proved to be plenty spacious and comfortable. The balcony did lack a little in privacy, since there are large gaps, allowing us to see a full reflection of the couple next door.
This was our first time cruising with Royal Caribbean; we have always cruised with Carnival before this. So we were trying to compare everything. Being that the Serenade is a smaller, older ship probably put it at a slight disadvantage for comparison. Shipwise, it came up a bit short.
The water slide was clearly only put there for kiddies only. I attempted to go down it, only to realize that there was not enough water to slide me down.
Mixed bag on the My Time Dining. The first night, we were put at a table for two, as requested. But the tables were so close that our neighboring table decided that we should converse like we were all together at one table. We were able to move tables after that, but that zone had waiters who were very slow and inattentive. Fortunately, we met some new friends and were able to join them in a different area with friendly, jovial, attentive waitstaff for the rest of the cruise. So with My Time, if you don't end up in the right place, it was nice to have some flexibility.
We felt that the dining room food was merely adequate. The only thing that wowed us was the nightly escargots. Their desserts left me wanting for the Carnival melting chocolate souffles.
The theatre entertainment we found to be meh. The karaoke was in a fun environment in the Crown and Castle Pub. The setup seemed to contribute to not feeling like you are on stage.
Loved the Centrum area with all the views and seating on different deck levels if you wanted to just hang out.
All in all, this cruise provided everything we were looking for for this special occasion. We were in a mellow mood, looking to destress, unwind, read, sun, relax. The ports provided great diving and snorkeling opps and just enough shopping. The sun was warm, the drinks were cold and the sun set on the horizon each night after a fulfilling day. Now I am ready for another 25 years with my mate :-)