December 2014 - 7 Night Bahamas & Florida (New York Roundtrip) Cruise on Norwegian Breakaway
Experience of a lifetime!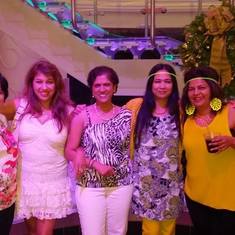 This was my first cruise ever and I was a bit apprehensive. As a family we traveled with 5 other families and I couldn't say nice enough things about the experience. As a youtube channel owner, I had requested filming aboard the ship, and the staff went out of their way to accomodate. You can watch the video here and at the end are some shots of our trip. Enjoy! http://bit.ly/norwegianbreakaway Staff and crew The staff and crew were extremely friendly and courteous. On many days we received wine and treats from the Captain, The Hotel Director and other members of staff. I also liked that the staff took great care to disinfect everything and always sprayed your hands with sanitizer to prevent any illnesses. Rooms We didn't upgrade our rooms but even the standard stateroom mid ship with no window and balcony was luxurious and very well planned. Every nook and corner was used effeciently. I was surprised at how large the shower stall was and there was ample storage space to keep all the toiletries etc. The shower was equipped with a hand shower which I loved and had great water pressure. Shout out to Mario on Deck 13 for keeping our stateroom clean and tidy. Entertainment There's plenty for all from Burn the Foor and Rock of Ages to Cirque Dreams where you can dine and watch the circus performers in a Jungle fantasy atmosphere. There's musical entertainment all over the ship and we loved to hang out at Fat Cats and listen to the amazing Big Poppa and his band belting out the jazz blues! There's plenty of fun entertainment at the pool with audience participation and I enjoyed playing Bingo, although I did think the cards were a bit expensive. They should lower the cost and throw in some prize money from the cruise line coffers. There also was a great teen hangout but since we travelled in a large group, our kids had each other and did not avail this facility. They did love the games room though and spent many evenings there. There was also a library but I figured I'm way too noisy to last more than 5 mins there. There is also a casino and slot machines to keep you engaged all night! Even though you receive a Day plan for the next day each night, it is impossible to take advantage of all the activities on the ship. Meals From fancy to buffet you can have it all. Freestyle cruising makes things so easy – pull up a chair and eat right now at the buffet or reserve to dine in style at one of the complimentary restaurants like Savor, Taste or the Manhattan Room that also has a performance by the Burn the Floor entertainers on certain days. If you want to kick it up a notch, some of their restaurants have a modest cover charge to try something delicious. We saw Cirque Dreams where you pay more for the entertainment and Cagney's where steak and seafood are king. Cagney's also has a great arial view of the Manhattan Room where we photographed the dancers from. Excursions We visited Great Stirrup Cay on Day one and Nassau the next. I can't complain since we were invited to disembark on the first tender, but I do think they need more than two tenders to get 4000+ people off that ship quickly to enjoy the beach. We docked into Nassau on Christmas Day so there wasn't much to do. The experience was so memorable that I would sail again without hesistation.