April 2014 - Carnival Paradise to Caribbean - Western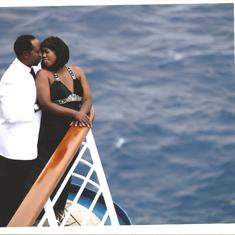 Faster to the Fun upgrade is a great perk added value to the cruise experience. Cruise was very entertaining and the spa experience wth seminars and gym workout added a wellness balance to all the fun. Ports of call were great, I shopped in Grand Cayman while my spouse Parasailed. In Cozumel, Mexico we did the Horseback & Beach excursion which was a real adventure. The cruise ship shows were very good as well the Bingo, Art Auction and Casino. I won several Art pieces fom the Art Auction.
The dining was perfect scheduled for early dining our wait staff did excellent, buffet was good but Room service had the best desserts onboard. Shopping onborard brought great surprises for purses, cologne, watchsets and signature cruies items. Overall the intimate size of the ship was a better deal than much bigger cruise ships, really had fun.