December 2015 - 7 Night Eastern Caribbean (Miami Roundtrip) Cruise on MSC Divina
It's Just a lot of little things.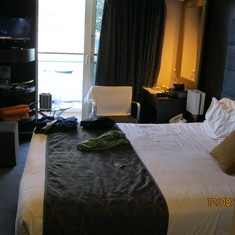 It was just a lot of little things that do not compare favorably with other cruise lines. It's a beautiful and well kept ship. Cabin was clean and house cleaning great. But the bed was a hard inner spring motel style mattress and with pillows that felt "lumpy" inside. Smoking was allowed in the pool and hot tub areas and the smell was strong especially in the covered area. The only entertainment at the pool was exercise but a lot of people seemed to like it. Food in the main dining room was very good some nights and other nights just ho hum. The 5:30 and 8:30 sittings strictly enforced and food service was very slow. In the buffet the food fare was mostly the same every day and it was hard to find a table. Most times, we always had to share tables with people who did not speak our language. Also pay $4 for ice cream. Over all we would have to rate MSC at the bottom of the 4 cruise lines we have experienced.