February 2016 - 5 Night Bahamas (Jacksonville Roundtrip) Cruise on Carnival Fascination
Overall a great cruise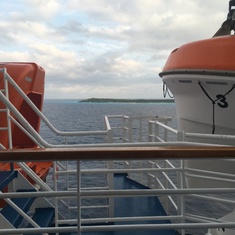 This was my first cruise. Could I pick out things that can be better, sure. It is a freaking modern miracle that we can even experience the things we do on a cruise ship out in the middle of the freaking ocean. Here are my pros and cons:
Pros: Dinner meals were excellent, both the food quality and service. The junior suite we had was sufficient in space. It was nice to have satellite tv. The balcony was nice to have. The staff were generally friendly. The VIP boarding that goes along with suites was a must have for future cruises. I was really glad that we had it. There were a good amount of activities.
Cons: We had an obstructed view balcony but we knew that was a possibility so we can't really complain about that. The announcements made by the captain could only be heard from outside your room, so every time an announcement was made, we had to run out to our balcony. The breakfast and lunch meals were just ok. Our 2nd port day was canceled due to weather, not really the fault of the cruise line. Spa services were ridiculously expensive. But, then again, the mere fact that you can have a spa in the middle of the freaking ocean alone justifies the cost. Apparently staff are overworked and under paid as evidenced by the fact that there are very little American staff. They apparently won't put up with that sort of treatment.
I was really happy with this cruise and can't wait to do another.