December 2016 - Oasis of the Seas to Caribbean - Eastern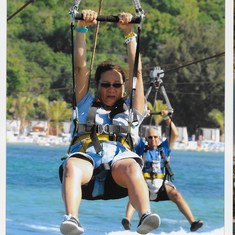 We find ourselves wanting to nit-pick a cruise experience because we expect everything to be perfect.  We make these comments with that in mind.  There are a few areas in which RCCL can make changes to make a great experience a GREAT experience.  Here are a few:
- Restructure MyTime dining to include the other dining rooms not just the one assigned (ie. Deck 3).  Waiting in line for 45 minutes is not acceptable to then find out that you are being sent to another dining room.  Doesn't Mytime Dining mean "My Time"?
- Do something about the smoke emanating from the casino.  IT STINKS.  Just walking anywhere on Deck 4 (ie. reassigned dining room) is uncomfortable.
- Servers on Deck 4 were not as good as that found on Deck 3 or Deck 5 dining rooms, are they second string? 
- Good service marks go out to Charlene, American Icon Bar Server, Jackie, our room steward, Olga and Bilyania, our bar servers.  They made this experience wonderful.
- Experience the ice show, and any musical playing on the cruise.  We saw CATS again with a wonderful performance.