March 2016 - 7 Night Eastern Caribbean (Port Canaveral Roundtrip) Cruise on Norwegian Spirit
Much Better than Expected!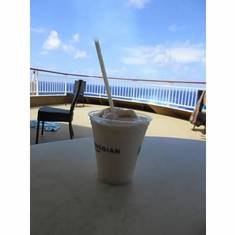 I had read so many reviews of this ship before we left, that I was a bit nervous. We were limited by budget and Embarkation location. We liked the stops that this ship made, so I was willing to overlook that the ship was old and small. Luckily, I was pleasantly surprised. Yes, the exterior of the ship needs a good painting. There are also definitely some signs of wear on the interior of the ship, too, but after reading a 100+ reviews (the majority which were not great), we booked it and hoped for the best. The inside of the ship was super clean. Our room steward was like a ninja and we never saw him after the first day or so, but our room was perfectly cleaned whenever we returned to it. The rooms have bathrooms with glass doors on the shower and they were larger than I remember other showers being on past cruises/ships. That was a big plus. The carpets, walls and everything else that I noticed were always very clean. The staff were friendly, helpful and kind. I had an issue with some shirts that I had washed by their laundry staff and they cleared everything up to my satisfaction. We have gone on Royal Caribbean and Carnival cruises in the past, and I think overall, the food was better on this ship. We only ate in the dining room twice, but the buffet food was definitely better than I have had anywhere else. We received the unlimited beverage package and the Excursion package, which gave you $50 per room/port if you booked a Norwegian excursion. The drinks were stronger than expected with the beverage package. I had to even ask several times for some of the drinks to just have a dash of vodka, etc., in them.
The only excursion we booked was in Tortola, where we did the land and sea package. I felt very safe the entire time and we learned so much about the island, as well as pirate history and the surrounding islands. We couldn't have asked for a more perfect day.
Overall, this cruise was a very pleasant surprise. The food and the customer service were incredible. Even the shows, which are normally super cheesy (and particularly bad on older ships), were pretty great. The Elements show was a must see if you are on a Norwegian ship that offers it. I would have paid to have seen that, which I never had said about one on a cruise before.
This ship is permanently headed to Europe soon, but i wouldn't hesitate booking a trip on it again before it does.