June 2014 - Carnival Conquest to Caribbean - Western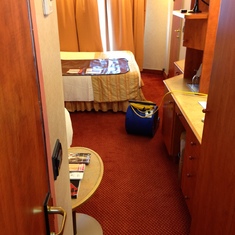 When you go with 32 friends for a 40th birthday cruise and you've never sailed on Carnival, you're hoping for the best and expect a memory-making experience full of fun times. Well, it didn't start that way, but it did finish that way. We requested all 8 families be on the same floor, so we could all be close to one another. When I went to my birthday decorated room, the room reeked of vomit, the carpet was soaking wet and there was a blower drying fan in the center of my stateroom. Well, that wasn't the welcome I was expecting. I asked for help, called guest relations, flagged down staff and finally after an hour, someone came to address the issue. To make a long story short, they knew of the problem, admitted they should have never sent me to the room, but couldn't prmoise me that they would have another room for me until after we set sail. So, after missing us setting sail with my family and friends and missing the first 3 hours of the cruise, finally they had a new stateroom available for me and had my luggage moved. I understand mistakes happen, but it was the, "What do you expect us to do about it" attitude they kept throwing my way. After I got into my room and settled it, everything was fine.
The food on the ship was excellent and Guy's Burgers is the best burger place I've ever been to. The stateroom staff and dining room servers were very nice and accomodating and the bar/pool staff was great! We ate our way through the ship and enjoyed it very much.
One disappointment was the kids club. It seemed more like a daycare for kids aged 2-5, so you can imagine the reaction our 9-12 year olds gave when we took them up there the first night. It was more of a "Let's sit criss-cross applesauce and watch a movie" type atmosphere and the kids were bored stiff after the first hour and begged us not to go back. Other than the family-friendly comedy show and a random game show night, there wasn't a lot for the kids to do after dinner. The gameroom was overpriced and there wasn't a dance club or fun place to go with the kids and parents and we weren't ok with letting them roam the ship on their own.
Another bummer was we completely missed one of our stops in Honduras. Apparently, the winds were too strong and seas were too rough for us to stop, so we didn't get to see Roatan. We heard that was the best stop on the cruise, so we were upset about that, but what can you do?
All in all, we had a really good time and I'm glad we went. However, next time I will try a different cruise line. It was what I would expect from Carnival, good but not great.