August 2016 - 7 Night Hawaii (Honolulu Roundtrip) Cruise on Pride of America
An Amazing Cruise on the Pride of America to the Hawaiian Islands.....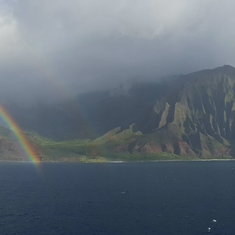 This was one of the best cruises my family and I have ever been on.
Excellent service, fantastic food, and the seeing the Hawaiian Islands.....WOW.  
Service was outstanding.  From the cabin attendant to the dining staff.....to the Captain and his wonderful crew.   They truly were, the P-Performance R-Respect
I-Impressive D-Dedicated E-Excellence.
The staff had outstanding Performance from all we encountered.  With a smile and attention to detail.  The Respect they gave to each of us was so very nice.  Each was Impressive in their own right.  They were Dedicated to making sure we had a wonderful and exciting time.  They exemplified the true Excellence the Norwegian Cruise line wants for provide for each of it's customers.
Each island has it's own culture and beauty.  Maui, Hilo, Kona, and Kauai were a sight to behold.  You will be taking photograph after photograph to capture the wonderful sights....
The Captain is to be applauded for taking the ship to see the flowing lava from the active volcano on the Big Island.  What a spectacular sight to see at night as the searing lava is flowing into the ocean.  WOW!!!!
On the last day on the cruise, he steered the ship to the beautiful coastline of Na Pali on the coast of Kauai.  You will be smiling from ear to ear from seeing such a natural wonder.  Simply stunning and totally breath taking.