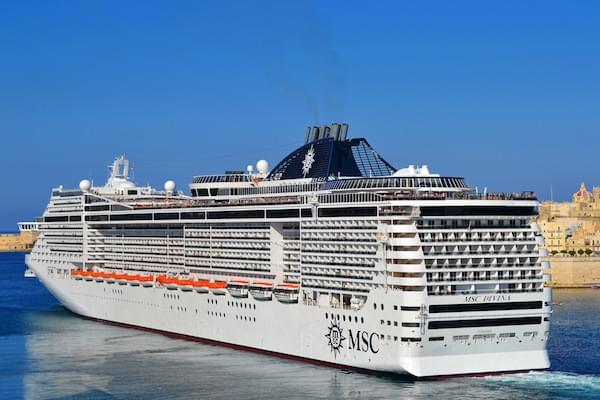 MSC Divina
Sail Date: April 19, 2014
Cruising! Italian Style from the United States:)
The overall impression of the ship itself is extremely pleasant.  The ship is huge and very accomadating.  Everywhere that we went, was just as nice as the prior space.  The only exception was the Specialty Restaurant, and the Buffet Restaurant on deck 14.  The specialty restaurant looked more like a cheap cafeteria, and the buffet restaurant, well that eventually grew on you!
EVERY staff member from our cabin steward to the purser and officers, exceeded our expectations when in came to service and professionalism.  They where all very helpful and courteous, the captain was without a doubt, the most pleasant individual that we had come across.  He greeted all the passangers on gala night, in twelve different languages!!
Our accomodations where overwhelming.  We had a handicaped access stateroom for my friend who uses a motorized scooter.  The room was huge and very nice, the balcony was amazing:)  The bathroom as nice as it was, could have been a little nicer.  The utilization of the room was out of sync with it's size, especially the television which was maybe 19" in size.  The programing on the television was fair at best, and the movie selection was expensive.  The best part, our room steward was outstanding and accomodating.
The dining room was very nice, and the service was courteous and professional.  There is not enough food runners and bus boys, it can become very intimidating for the waiter.  In most instances the food was very good, the appetizerts where exceptional, and yet the main dishes could be dissapointing.  The amount of time between courses, also tended to lag. The breads and dessert where without a doubt, the best that I've ever had on a cruise ship.  The food in the buffet court was overall extremly good, the Pizza bar was outstanding and so was the cold cut and cheese selection.
I see no logic in putting a hamburger with toppings inside of a box?  The ice cream bar by the pool (at an additional cost) was amazing!!!
The entertainment was top notch!  Every show was entertaining with the exception of the Opera show, it's just not to my taste and not to the taste of everyone that saw it.  
If you do not have a chaise or pool chair by nine in the morning, don't expect to get one anytime later.  They're where simply too much people on deck at one time for it to be a pleasant experience.
The ports where o.k.  St. Marten (I'd been there a dozen times) was fun, but routine.  Tortola?  O.M.G.!!!!  why is it even a stop, very boring and nothing to do:(  The private island was nice, if you've sailed on Norwegian, you'd be familiar with it, being it's their island.
Again, the ship is Italian.  They're customs are different then ours, they are making every effort to appease the American taste, and they are succeeding.  The ship itself is beautiful, clean and huge!  Once you get a hand of it?  The days go by in a blink of an eye:)  Although they are far from perfect, they're not to far from it!  Looking forward to sail on the Divina again:)
Ivan