June 2017 - Oasis of the Seas to Caribbean - Western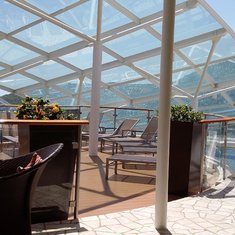 Favorite part was the evening meals in the dining room except for the guests ignoring the dress code, of which there were many.  Service and food in the dining room was excellent except for the deserts.  Best overall desert was the ice cream.
Stateroom was excellent and our steward was above par.
Hadn't considered the weather when we booked.  Wrong time of year for this cruise due to the outside temperatures.  Made having an outside balcony mostly useless.  Would have been better off with a less expensive ocean view.
Also there were an excessive number of children on board due to schools having ended for the year.
Food at the buffet was mostly mediocre with no variety from day to day. Best desert at the buffet were the cookies.  The gallery just does not know how to do cakes and pastries especially the cheesecake was awful.
The seas were mostly calm the ports, we barely got off the ship.
We did not appreciate the constant almost badgering to buy drinks, excursions or have our pictures taken.  Also didn't appreciate the mandatory tipping charges with no ability to opt out.
The ship was great and mostly relaxing.  The entertainment was first class. 
,