June 2014 - Norwegian Sky to Caribbean - Bahamas
Cruise OK, but I've had better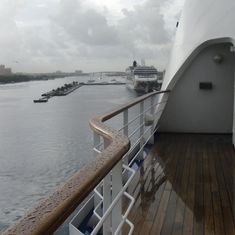 The title says it all. The ship was right on schedule at every stop. The crew was very competent and friendly, The food was good, but not great. The entertainment was low-budget, but delightful. The size of stateroom was adequate, but not roomy. The free-style dining is a great feature and the service was good, as long as you didn't go in during a rush. Most people ate in the cafeteria.
However, the cleanliness of the stateroom was not up to snuff and it showed some age. The Rest Rooms are hard to find; I could walk right by them and not see them, when they were there. The shore excursion choices were broad, but they are over-priced. We had a long wait for transportation and were rushed through when we got there. The NCL private island was OK, but certainly not luxurious..
Our cruise was right after summer vacation from the schools began and there were a lot of unruly teenagers who disturbed us and the dining room staff could not cope with.
Cruising from Miami requires an expensive cab ride to and from the ship. We won't do that again.