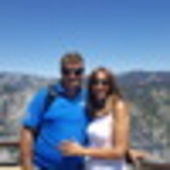 ganov
South Carolina
Joined 01/2015
Past Cruises
July 2018 - 7 Night Voyage Of The Glaciers Northbound (Vancouver To Anchorage) Cruise on Coral Princess
July 2017 - 7 Night Western Caribbean (New Orleans Roundtrip) Cruise on Carnival Dream
June 2017 - 7 Night Western Caribbean (Miami Roundtrip) Cruise on Celebrity Equinox
March 2016 - 8 Night Southern Caribbean (Port Canaveral Roundtrip) Cruise on Carnival Sunshine
March 2016 - 5 Night Bahamas (Jacksonville Roundtrip) Cruise on Carnival Fascination
Fun Cruise Ship, Bahamas just OK
The Ship was great, but the port was just ok.  The water was a bit chilly.  We went to Paradise Cove Beach and Snorkled Deadmans Reef. This was a good excursion. 
March 2015 - 7 Night Eastern Caribbean With Carnival Live (Port Canaveral Roundtrip) Cruise on Carnival Liberty
Great first cruise!
We went on this cruise with open expectations and were thoroughly happy! The food was great and the service could not have been friendlier or prompt.  There was lots to do and the excursions were a blast!  I do wish that I had been given the customs rules ahead of time. There was some confusion as to what we could bring in tax free and the service desk told me wrong the first time. When I rechecked I realized that I panicked for nothing and what I bought in Puerto Rico was also tax free.  I also feel that if you put signs out that say no reserving of chairs and towels will be removed after 30 minutes you should do that.  I saw towels being left for most of the day and no one in the chairs; meanwhile families are looking for chairs.  All in all it was a great experience and I would sail with Carnival again.
No Tips Added