Where is everyone?
Where is everyone?
Been to quiet around here.
6682 Answers
Originally posted by: BDRebel
It is always nice to not have that hanging over your head while on vacation.
Have you packed yet? Have you given your gerbil speed?
Not packed but things set aside to be put in the suitcase. My gerbil has been on speed for about a week, just trying not to show it. It helps that I have my follow up dental appointment tomorrow, nothing slows down my inner gerbil like a dentist visit. I still have two outfits I need to try on before packing. I have lost a wee bit of weight (on purpose) and can fit into some clothes I haven't worn in a few years (and not yet into some others). So my packing for this trip will be different than the last one. Yea.....
Just got off the Carnival Imagination. We had an amazing time! Check my youtube for some ship footage
Home again. I have a new crown. Sadly, it is in my mouth not on my head.
Originally posted by: AuntPinkie
Home again. I have a new crown. Sadly, it is in my mouth not on my head.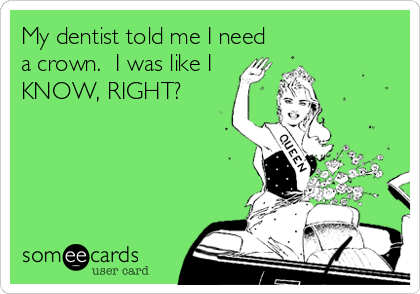 Thanks! I like it this one! I should have it enlarged and on my wall.
Tomorrow is packing day. We are watching the weather like a hawk. It is very windy and the forecast says it will be again tomorrow. Friday it looks to be better so the flight should be fine. We have a "layover" in Indianapolis and that weather looks good too. The rain in Florida even looks to be minimal when we set sail on Saturday After that I don't really care. My inner gerbil running around like crazy.
It sounds like you need a giant tread-wheel!
Hope you have a great time on your much-needed cruise!
Completely packed, patch behind my ear, paper stopped, mail stopped, plants watered, phone charged, kindle charged, earphones charges, alarm set, airline tickets printed... I think we're ready to go. See you all in March!
Showing 6671 - 6680 of 6682 Answers
Reply