Super Bowl Game
Super Bowl Game
Any idea as to which venue on board we can watch the 50th Super Bowl?
6 Answers
Sorry, didn't see the tag. I am sure Royal Caribbean will be showing it in their own on board stadium, complete with Jumbotron. Or at least any bar with a tv, and probably the atrium, if equipped with a video screen.
We cruised on many lines during the playoffs and Super Bowl. The venue varies widely.
NCL - used the Atrium
RC - used the big theatre
PC - used the outdoor jumbotron screen for regular season games
It really depends but there are announcements about this AND it should appear in the daily newsletter once you get onboard.
I've seen 2 Super Bowls on board. My favourite part ? Watching that snapped ball go right past Manning's ear. This year it's............
GO CHIEFS !!!!!!!!!!!!
Won't be watching the game on board though. Unless they replay it the week of March 2nd.
If all goes well, we will be half way through a Caribbean voyage on the Regal Princess, porting again in Port Everglades, when we watch the "Seahawks" take the Super Bowl. I think we were on at least two other cruises during Super Bowl time. The one I recall best was in the South China Sea after leaving the Pearl River and Guangzhou in China. We were on the original Pacific Princess and the game took place in the middle of the night in the very early morning hours. I can't remember what venue except there were quite a few turned out at that hour for the game. I didn't believe they would get a signal there but they did, it was a little scratchy at times but we did see the game. The Cowboys buried the Buffalo Bills 30-13. It seemed like the crowd was pretty much split, I was rooting for the Bills. If I recall correctly the Bills got out to a small lead then Dallas took over. By the end of the game most of us were back in our cabins catching some more ZZZs.
I have been on 2 Super Bowl Cruises and will be on this years Super Bowl on the Carnival Miracle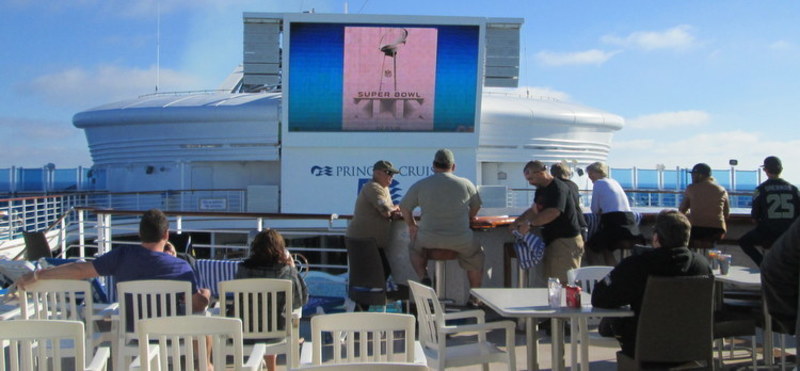 Reply