QUIZ: Where is the best place for you to cruise?
QUIZ: Where is the best place for you to cruise?
Take our latest quiz on where you should cruise to! We got Caribbean!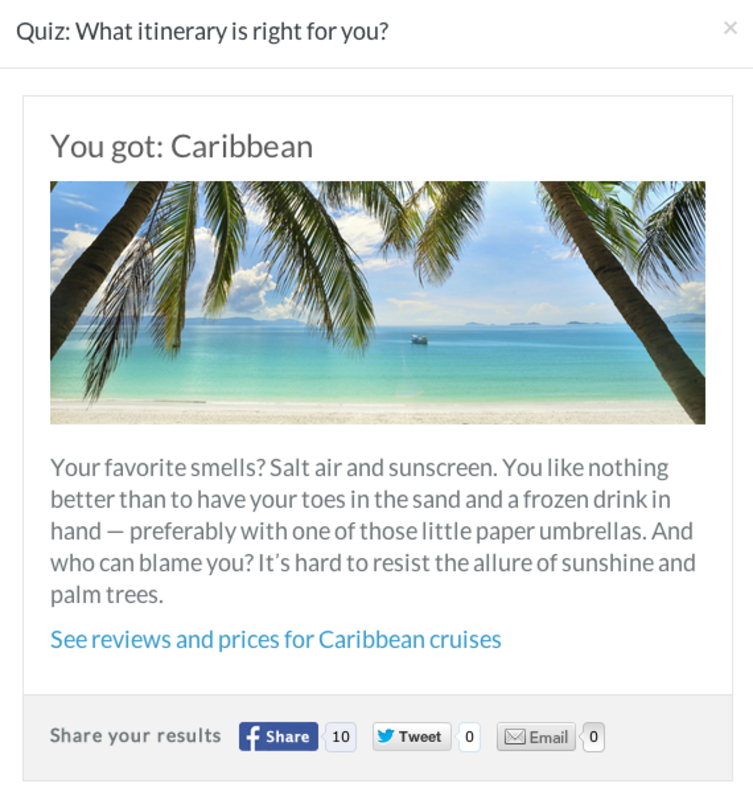 What were your results? Share them below!
3 Answers
This is more of a personal thing. Some like to cruise to Alaska for the scenery there yet some like to cruise to the Carribean for the scenery there. For us, our preference is the Western Caribbean. Yet next year, for our 25th anniversary, were looking at what will be our first Med cruise.
The Carribean is my favorite , but I do not Cruise their to much anymore , I do not like to fly that much anymore, I just like to Cruise
Trick question, right? The best place to cruise is wherever you want to go! Maybe the Caribbean is the most popular (or the most common) but the beauty of cruising is the flexibility! We've cruised Alaska, Hawaii, Europe, Mexico and Canada as well – and we'll visit all of them on cruises again in the future! We're also looking to visit Asia, Australia, Africa and Antarctica on cruises – plus countless other destinations!
So many cruises, so little time!
Reply