We've been following early verified reviews from Royal Caribbean's Quantum of the Seas, which launched in November and so far, reception for the ship has been lukewarm, with just a 2.6 star rating here on Cruiseline.com as of today.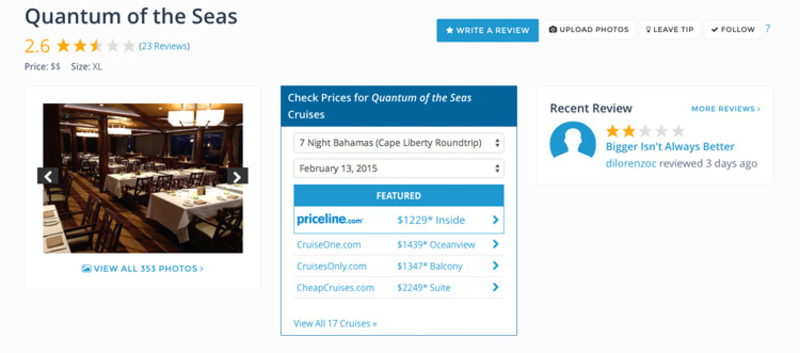 One of the biggest complaint areas seems to be the new Dynamic Dining concept that eliminated the main dining room and fixed dinner seatings. 
dilorenzoc wrote: "It became a bit depressing to hear passengers and crew complain about the cruise. One night as my family and I waited on a long line forty minutes past our reservation time at The Grande Restaurant we could hear those around us say, "never again on this ship", "this dining system is broken," " this ship is too much work and too stressful." At times crew members said to me "there is not enough staff on board and we are exhausted " and "none of us want to be on this ship."  I can honestly say I had not heard one positive comment during the entire cruise." http://cruiseline.com/ship/quantum-of-the-seas/review/393227
Greekkouk says: "The buffet had the same food everyday and the free restaurants had the poorest food I have ever tasted. My recommendation is to avoid this ship, but if you decide to go, make your reservations for everything as soon as you make your booking. Plan on eating in the specialty restaurants . Their food is a bit better." http://cruiseline.com/ship/quantum-of-the-seas/review/392918
Giliwalice said: "I would have rated our recent Quantum experience a five star, EXCEPT for the UNDERSTAFFING of the restaurants. The waiters/waitresses were excellent but they can only do that much. In some restaurants, we have one waiter for 2-3 tables. In other ships, there is the head waiter, waiter, assistant waiter. The variety of the menus is very limited." http://cruiseline.com/ship/quantum-of-the-seas/review/392848
Tm0, a Diamond Member of Royal Caribbean's Crown and Anchor program wrote: "The worst part of the cruise which was truly unsatisfying was the Dynamic dining. You basically could not eat at a complimentary table served restaurant without a reservation and even if you did have a reservation there was always a wait of 10-20 minutes. After waiting on line and finally being seated the service was slow and the food quality wasn't that great. I truly hope that Dynamic dining does not catch on to the other ships because I may need to change cruise lines if thats the case." http://cruiseline.com/ship/quantum-of-the-seas/review/393064
There are some passengers reporting positive experiences, to be sure, but the predominant response from loyal Royal Caribbean cruisers seems to be frustration and disappointment. You can read all our Quantum of the Seas Reviews here:  http://cruiseline.com/ship/quantum-of-the-seas
Royal Caribbean has delayed the Dynamic Dining program which was supposed to debut on Oasis of the Seas and Allure of the Seas this spring. http://cruisefever.net/1227-dynamicdining-postponed-royalcaribbean/ Is the delay a tacit admission by the line that the concept needs tweaking?
What do you think? Did Royal Caribbean push the envelope too far with Dynamic Dining, or will they be able to refine the process and make it successful? Would these early, negative reviews keep you from booking the ship? Why or why not?