New guy on board
New guy on board
HOWDY folks.
looks like I'm the new guy.
how y'all doin today?
34 Answers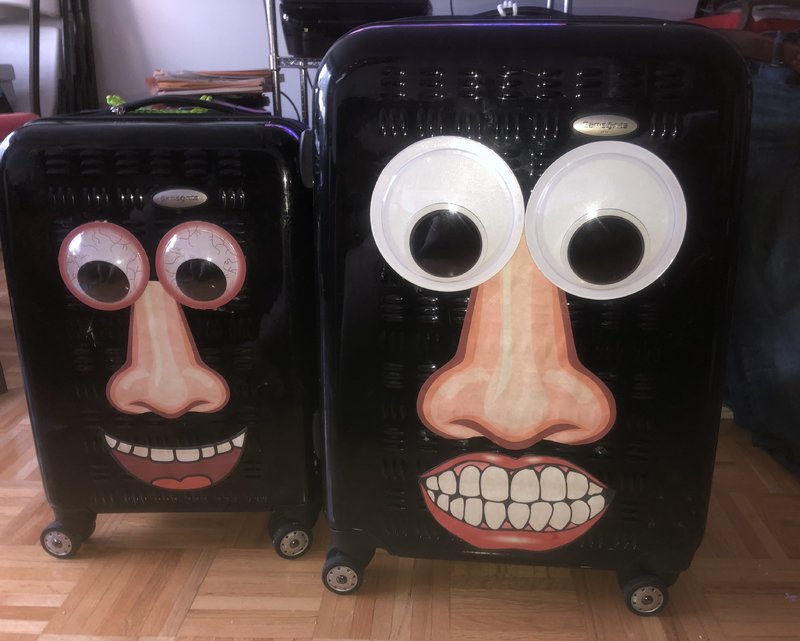 Hey, anyone else do this to their luggage?
I can just imagine throwing those in the back seat of my car to drive to the port, and having that stare at me through my rear view mirror for the next 200 miles!
We just carry a mis-matched set of a red hard-sided suitcase and a black soft-sided one with a neon green strap on it.
I like it!!! gets laffs all over I bet! ours is small 4 wheeled stuff...emphasis on small...its a game to see how little we can schlep around...its taken a long time to obey rule one...if you didn't wear it or use it ...you didn't need to take it...and...btw...welcome to the asylum!!!!
Welcome to the forum. Your luggage sure would be easy to locate coming off an airline carousel.
Welcome aboard.
I can just see the reaction from some grouchy luggage handler having a miserable day who has not yet had his third coffee as he has to handle those.
Welcome! What a fun way to make sure you get your luggage and no one elses!
Which is one of the reasons why we "walk off".....but...we always put some ribbons on the handle...old habits etc....but that stuff is way better....she liked it, a lot, I put the kibosh on it...
Those are both carry on. Handlers would destroy them
Welcome aboard. Good to have you on the site. No I don't decorate my luggage as you have. Very different....
Showing 1 - 10 of 34 Answers
Reply