Interesting - NCL announces a new ship special built for Alaska
Interesting - NCL announces a new ship special built for Alaska
I wonder what the special features will be
http://cruisefever.net/1013-norwegian-building-cruise-ship-designed-alaska-cruising/
17 Answers
Say what? "Andy Stuart, President and CEO of Norwegian Cruise Line, gave the following statement: "Norwegian was the first cruise line to begin cruising to Alaska from Seattle in 2000 and it's only fitting that we bring our newest ship, Norwegian Bliss, directly to this incredible location. Alaska is one of the top destinations for our guests to explore and we are thrilled to be the first cruise line to offer our guests the opportunity to experience this coveted destination aboard a brand new, state-of-the-art cruise ship custom designed for Alaska, the first of its kind to ever debut in Seattle."
Nothing like rewriting history. Wow, guess if you have not lived here all your life and spent a good portion in the travel business here, you might believe this NCL propaganda.
Cruise lines were working Alaska from Seattle back in the 1970s. Holland America Line bought out West Tours, who really began it all with cruise ships from Seattle, a decade or so, after the Alaska Steamship Company quit carrying tourists and passengers to Alaska in 1954 from Seattle. Princess Cruise Lines even got into the game before NCL did. Maybe NCL can point to a charter or something, in order to make this claim. Lot more to the story though.
So many ships, so little time! Very interested to see the "custom built features and amenities specifically designed for the ultimate Alaska cruise experience"…
I saw this article and shared it to my BF. He is very loyal to royal, but I was hoping to try and get him to expand his horizons. I am interested to see what will be so specialized for Alaska? Observatory deck for pictures? built in tripods? indoor pools?
He might be referring to cruising out of Seattle. I thought most ships sailed out of Vancouver to Alaska years ago.
Regardless, my question is how a Breakaway sized ship is going to get into the smaller ports ? We'll take a look at her, but will probably choose HAL or Princess. If we can even reschedule our Alaskan cruise.
Special features? How bout heating the deck and passing out electric blankets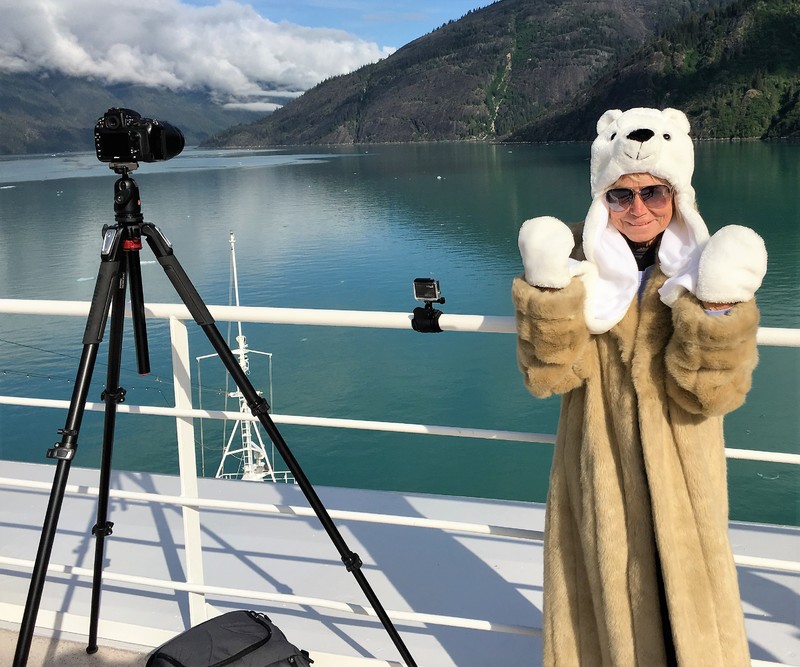 Nice camera, but you forgot to turn the IS to OFF.
Originally posted by: BAK1061
Nice camera, but you forgot to turn the IS to OFF.
Not mine - one of my son's - not sure what he was using to take me ...I'm just the schlepper who helps carry the stuff. The GOPRO on the rail did capture the best footage!
A 4000 passenger ship in Alaska. That should be fun. I'll stay with the smaller ships.
Originally posted by: BAK1061
He might be referring to cruising out of Seattle.   I thought most ships sailed out of Vancouver to Alaska years ago.
Yea, I thought he might have been focusing on Seattle as well as he did mention NCL was the first out of Seattle in 2000, but here are some of Chuck West's comments from his book "Mr. Alaska". These were prior to the sale of "Alaska Sightseeing/Cruise- West", to HAL:
"Not since Alaska Steamship Company ceased passenger operations in 1954 had an American-owned firm offered a summer-long schedule of Inside Passage cruises from Seattle." "By April of 1991, the 158-foot, 99.7 ton "Spirit of Alaska" was ready." Our belief in Seattle as an embarkation port for Inside Passage cruises was borne out by exceptionally strong sales. In the first year the cruise was booked to almost 100% capacity."
Correction: I was wrong in that Chuck West had sold out to HAL before he made those comments I quote above. What happened is that he got back into the business again and began "Alaska Sightseeing/Cruise-West", which then began Seattle-Alaska cruises.
It is true that Princess, HAL and Sitmar were working Alaska out of Vancouver back then. In 1988 Princess bought Sitmar. Chuck West had gotten together with the Italian company Sitmar on land excursions and Prince William Sound glacier sightseeing excursions until Princess bought them and then paid West off for contractual deals he had with Sitmar. West then decided he wasn't going to be dependent upon larger firms again.
In his book he never mentioned NCL being a player at all. Of course NCL says they didn't get into the game until 2000. Which is probably correct but they certainly weren't the first out of Seattle.
Showing 1 - 10 of 17 Answers
Reply