I'm a newbie to the cruise thing.. what to expect? ?
I'm a newbie to the cruise thing.. what to expect? ?
This is my first ever cruise. I'm nervous and super excited at the same time. Me and my husband will be celebrating our anniversary. What should I expect on the carnival fantasy? ?;
15 Answers
Carnival ships have a younger crowd , I cruised out of New Orleans on the Fantasy , I had a great time
First thing first. You and your husband are going to have a great time. I`ve not cruised on Carnival, but I am still a relative newby with only three cruises un my belt.
Your expectations for this cruise are yours alone. Keep an open mind and go out of your way to have fun. The crowd will probably be younger on this cruise and it can be a bit wild and crazy. There are areas you can find quiet time and there are other areas where you party your A&& off.
Tell the cruise line about the type of celebration you want, they will do what they can to fullfill your wishes.Have fun and let us know how it goes.
Here is were you can kick back and relax on Carnival ships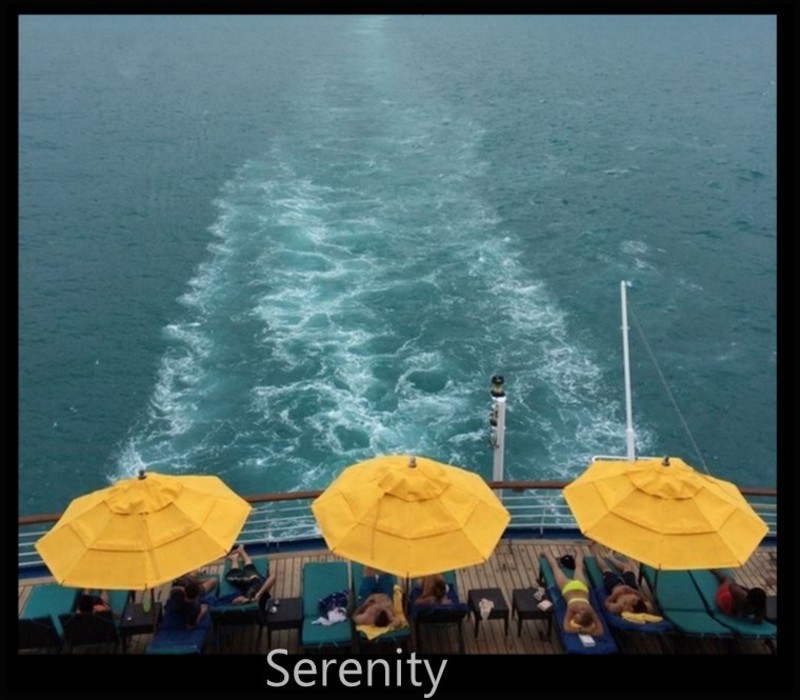 You made a great choice! Our first ever cruise was with Carnival and we were celebrating our second anniversary (with the honeymoon we hadn't had time for sooner)!
You should expect good food, good entertainment and most of all FUN! Your cruise can be whatever you want it to be: quiet and romantic, a wild party, a little of both or something in between. Feel free to ask if you have any specific questions – we'll be happy to help.
One warning though: cruising is addictive! We just celebrated our twentieth anniversary with cruise number 62!
Thank you.. I am super stoked!!
I would think that Carnival has these....Game show take-offs, like the Newlywed game.
ETC.... Try to get into those, they are a lot of fun and you can win a bottle of bubbly at the same time. Also, try the Dance contests...... More Bubbly.....
My favorite is Royal Caribbean , but Carnival will be good for the first cruise
Just came off Fascination!!! Wonderful cruise (my second) and I am ready to book again!!! Party on the Lido deck, play in the casino, dance the night away in the clubs, get a great spa treatment, shop on and off the ship, see the shows in the theaters, stroll the art gallery or find quiet relaxing time on the Serenity deck...whatever your heart desires!!! Enjoy the umbrella drinks..(Kiss on the Lips is very good)!!! Have fun and enjoy!!!!!
First of all, expect to meet some people. Just start talking. Tell them it's your first cruise. Then, expect to have some fun. Go with an open mind. Nothing is perfect. But, a cruise comes close. Our first was on the Carnival Holiday back in '92. Try to find and use all the coupons on board you can. On the islands, most women collect the free charms given out in certain stores. Make sure you attend the shore talks given on board. Try to sit near the front, you may get free stuff. Ask questions. Someone will answer. Have fun on your cruise.
And don't listen to people that tell you to stay away from certain lines. Norwegian is a great line. Our worst experience was on Royal Caribbean, but I don't tell anyone to avoid them. I just tell my experience. Anyone that tells you to avoid a particular line, is a bad source of info.
Showing 1 - 10 of 15 Answers
Reply