April 2017 - Norwegian Escape to Caribbean - Eastern
With Royal Caribbean being our favorite cruise line, NCL comes in second!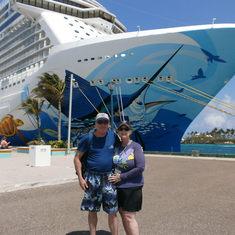 Our recent cruise on the NCL Escape was our 25th cruise (all different ships). We have attained Diamond status on Royal Caribbean because we like their big ships. The Escape is comparable to RCCL's Quantum class - the second largest class of cruise ships overall. Carnival, Princess, and Disney have nothing that comes close. We believe that "more is better"!
     We loved the ship, however, we have one major observation - there is not much easy food to be had anywhere other than in the Garden Café on the deck 16. O'Sheehan's on deck 7 is a sit-down restaurant. There is no pizza, paninis, pastries, self-serve coffee, or hot dogs to be had upon returning to the ship from a shore excursion or any other time, other than trekking to the Garden Cafe for all the above. I know that it's a competitive industry and that NCL chooses to offer free drink packages (very costly); unfortunately at the expense of the food offered onboard. Entrée portions are small (I know I could order another, but why?) and there was no lobster night in the free dining rooms - even the Carnival Magic in November offered free lobster.
     A ship this size could use another swimming pool. The Anthem of the Seas has 3+!
     The water slides and the ropes course are the "best at sea"!