October 2016 - Anthem of the Seas to Canada, New England, New York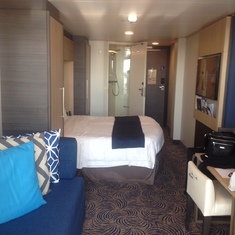 The staff was friendly, courteous and helpful.  Food at Specialty restaurants and at the Grande restaurant was excellent, the others average, service at all restaurants was also very good. 
Completing web site to choose restaurants and shows was too convoluted I spent hours trying to figure out time to dine and time to attend shows.
I processed all pre-embarkation requirements, including downloading photos.  At the port, I spent what I feel was a long time to board ship including a problem where a bar code did not print in a document given to me at the port, so I had to go back to a service desk to get one printed with the bar code to be able to board.  Disembarkation was a lot better than expected although my flight was early, I got to airport with plenty of time