April 2016 - 5 Night Bahamas (Charleston Roundtrip) Cruise on Carnival Ecstasy
Not Impressed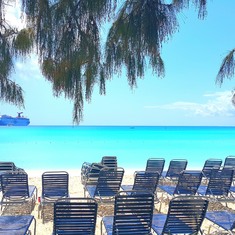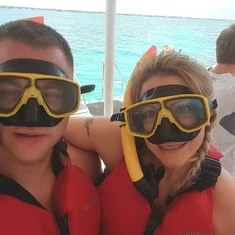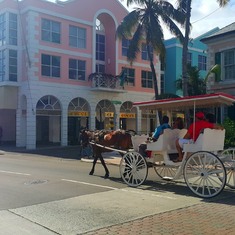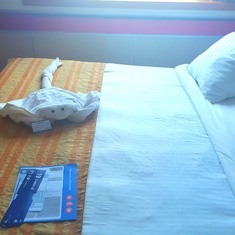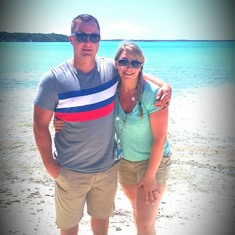 Let me start with the good. Half Moon Cay was the most beautiful pristine place I've ever seen or been too. If I could have stayed there the whole time I would have been thrilled. Nassau was not so impressive and there were people trying to scam you everytime you turned. I would not go back there again.
Now let me touch on the food, I consider myself to be somewhat of a foodie, I enjoy the finer things in life. Now I was told over and over how amazing the food was during a cruise so naturally I was excited to indulge. Sadly, I was very disappointed to see the quality of the food they served. There were a number of dishes I couldn't even eat, I had to turn away. I ordered rack of lamb one night that seemed as though it had been under a heat lamp for 10 hours it had the consistency of beef jerky (not an exaggeration) one morning for brunch I ordered Huevos Rancheros, I am pretty sure the chicken in it was left over from the BBQ the day before (Jerk Chicken which was good the first day) it was greasy and I pulled probably 10 chicken bones from my mouth! I ordered a number of steaks (filet mignon) cooked rare, and instead got over cooked charred even well done steaks in brown gravy (who puts brown gravy on a filet??) Also, disappointed in the food options open when the dining room wasn't available pizza that tastes like communion crackers, and a sandwich deli which had about 6-8 ok options. Room service was a total joke they have stuff like PB&J and a BLT was BY FAR the best thing you could pick from.
I was also highly dissatisfied in the amount of stuff to do on the boat. They advertise they have all these bars and restaurants and activities but what they don't tell you, is that only one or two things are opened at a time. There were a number of times me and my husband just wondered back and forth on the boat bored out of our minds and left with nothing more to do than day drink. The activities they do have are so uninteresting you couldn't pay me to sit through them, "How to make Animal Towels", "Art Auctions" (where the Art Work costs 5,000-100,000 like let's be real here millionaires and the rich aren't cruising with Carnival Cruise Lines I am SURE) A few of the things I enjoyed at night (cause that's the only time they're opened) was the Kareoke Bar and the Night Club, I was just disappointed that they closed so early! I can drink till 5 am in the bars back home (Alaska) and your going to close at 2??? Literally NOTHING is opened after 2am so hope your not a night owl! And the pools..... so yeah I couldn't tell you how they are because every last square inch has a child in it. Not once (not even at night) were we able to get in the pool. There are children running around completely unsupervised night and day, no curfew no rules. And never have I seen somewhere that has a jacuzzi let small children in it. That's all that's in there literally not exaggerating there was about 10-15 kids in each of them the ENTIRE day! I wish we could've flocked to the serenity deck but understandably it was always full (as was almost all the rest of the areas) So I did enjoy the comedy club well at least half of it, if you get a chance to see someone check out Arvins show he is pretty hilarious and does some great impressions I loved how real and raw he was. Kim however, I feel bad ragging on her but all any of her shows were about was making fun of herself for being fat...it was rather uncomfortable and awkward. We couldn't sit through it. I also did enjoy the musical they had about Motown it was rather entertaining.
So moving on to talk about the money trap that is Carnival. So, first of all we wanted to save money in the long run and purchase a drink package cause we did plan on doing quite a bit of drinking while on board. And I knew going in to it, you were only allowed 15 drinks a day. What I made the mistake of doing is ordering from random people walking by taking drink orders. Half the time they wouldn't ever come back and the rest of the times (more times than not) the drinks sucked so bad, you couldn't even down them so it was wasted drink after wasted drink. Also we were told that we had endless bottled water with the package and it was so nice of them to fill up our rooms with it as well! You know especially cause they don't even have water safe to consume in the rooms. What wasn't very nice of them was not leaving a note that says you will be charged $6 a bottle for the bottled water in the rooms.... such a slimy scam the water situation was. And they will not budge on those charges either. So one thing I was pretty impressed with was the skill of their photographrespective they got some pretty awesome shots of me and my husband. But they were a little pricey. So we got a package deal to save some $ we picked 2 pictures and we're told we'd get 2 canvases and 2 8×10s and 8 wallets not bad for $100 and the canvas they had on display looked legit! Well we went to pick up our pictures and we're handed a tube.... I was like I am pretty sure we have some canvases too? And was told they were in the tube and we'd have to pay to have them mounted to wood frames on our own time.....TOTALLY unimpressed. If I didn't like the pictures so much I would have demanded (or tried) a refund. Also lost money in the casino, to be expected I know. But holy cow those are some of the "luckiest" dealers I've ever seen! Flush after Flush, hitting 21 over and over again. And if you're a fan of Texas Hold 'Em, it's rather dispointing to find nothing but a computer tournament. They also have another tournament style but it cost $175 to play, not worth it in my perspective.
So to sum it all up, I will probably not be wasting my money on another Carnival Cruise. By day 5 I was so sick of being stuck on that crummy over populated ship all I wanted to do was stay in my room. 😕