July 2016 - 7 Night Eastern Caribbean (Miami Roundtrip) Cruise on Norwegian Escape
Escape from the Escape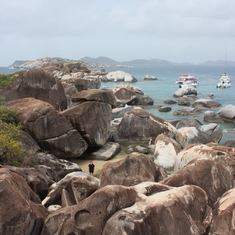 I've been on 15-20 cruises over the years, but this was my first with Norwegian since 1992. I will never cruise with Norwegian again.
Pros- The Norwegian Escape was new, so it was clean and pretty. The ropes course was really cool (but only 2 of our 6 were ever able to get on it.)  The crew was generally respectful and courteous, Virgin Gorda was an amazing port accessed by ferry easily by cruising into Tortola or (a much longer ferry) by cruising into St. Thomas. The food was better than adequate but fantastic in the specialty restaurants like Le Bistro and Moderno which had some of the best food I have ever eaten. 
Cons- This list is very long. I may have to do several paragraphs. First, the ship is overcrowded. I found myself standing in lines continuously. There were always lines for the elevators, the restaurants, excursions, to embark or disembark at ports, and to do any activity on the ship. The "atrium" was not grand at all. It was basically 2 floors with no glass elevator- very "blah." Since the ship has 20 floors, it's a short ship with only two sets of elevators instead of the normal three, which created nonstop lines and people scurrying to get on ahead of you. The buffet ran almost nonstop at Garden Café, but if you entered, it was wall-to-wall people waiting in lines at each station, and you could rarely find a seat. Several times, we had to go outside to eat where the humidity was so bad that we had to go back to the cabin for showers. Also, the free activities on the ship were EXTREMELY limited. Basically, you could do trivia, dance, (with a lot of drunk people) or watch movies on deck. Everything else was too crowded or cost extra. The ropes course was often closed, (due to the wind) so the lines were crazy when it finally opened. (The two people in our party who withstood the lines loved the ropes course which included two zip lines (but one was not working) and two planks over the side of the ship (but one was not working.) Of course, you had to stand in line in the middle of the ropes course to get to either of those two features. Everything on board the sports deck had lines from Dodgeball and Mini Golf to Ping Pong and even Shuffleboard. The whirlpools were always in use, and the pool situation was awful. Unless you paid extra for spa services, you could choose to use the AquaPark which was packed with kids or the main pool which was impossible to get into. We tried to go watch a couple of activities on the pool deck, but there were never any chairs available and the pool was literally 3-4 rows thick of people sitting around the edge of it, just trying to get their feet in. Because of Norwegian's special drink package, half of the people on the pool deck just stayed there all day in chairs they had claimed at the crack of dawn that they did not want to lose and literally tried to see how much they could drink in one day to "get their money's worth" on the "free" drink package that had cost them hundreds of dollars. Consequently, there were a lot of loud, drunk people on board. 
We did not do any of the ship's excursions because they were double the price of booking them on our own. In St. Thomas, we took a cab to one of the three best beaches (for snorkeling), Coki Beach.  (The other two are Sapphire Beach and Secret Harbor.) Coki Beach was gorgeous in the morning but very crowded in the afternoon when we left for an hour of shopping before getting on the ship. Magen's Bay is the prettiest beach overall, but the snorkeling there is not good. (Taking the ferry to St. John's is a great option, but we've already done that multiple times, and our time at each port was EXTREMELY limited by Norwegian.)
At Nassau, we've done Atlantis before which costs a fortune, even after you pay the park's very high admission price, and we've done Blue Lagoon (which is smaller, but really pretty and more economical), so we took the #10 Jitney bus (for $1.25 pp) from the main street (about a 10 minute walk from Festival Park where you dock) to Breezes All-Inclusive Resort where we bought a day pass for $80 pp. You must be at least 14 years old to go there, so it was nice to get away from the kids, the drunks, and the crowds. (Sandals is another all-inclusive with day passes for $120. It's 18+ and is even nicer, but we had a 16-year old with us.) Breezes was very relaxing. They had several pools, one with a swim-up bar, chairs in shallow pools, water and beach volleyball, a rock climbing wall, trapeze lessons on the beach, snorkeling, (and I believe they had a limited amount of non-motorized sports like kayaking and paddle boats; we never went over to that section of the beach. We had all of the alcohol we wanted. The price also included a buffet (which was average) and the grill which served hamburgers, etc. all day by the pool. It did storm after 2 hours, so we had to leave the water, but we didn't even care. The price had included (rather slow) Wifi. Since we hadn't used our phones in 6 days, we welcomed the chance to "catch up" with our technology. We even completed airport check-in for the next day. Despite the weather, this was a great excursion.
The excursion we chose in Tortola was the best. It is physically demanding because of the walking and bending, but we saw people overweight and people 60-70 years old who were handling it okay. We walked a short ways to Speedy's to take a $38 round-trip ferry that included a Safari bus to the Baths and the Caves at Virgin Gorda. Look these up on Youtube. These were amazing! Volcanic activity has created huge boulders all over the island with gorgeous "caves" with nooks and crannies where you can swim and explore. It's big enough that you can find your own private spot but small enough that you can't get lost. The only negative is that there's a line to get through the main route in the caves, but you are not required to stay in that line. My son's a rock climber, and he scaled the top of the boulders in his sandals. There's also great snorkeling at the Baths Beach and at Devil's Bay which is at the end of the caves. We saw lots of coral and fish, even an eel and an octopus. The worst part was having to be back on the ship by 3:00. We could have easily stayed here all day. There was a little restaurant on the beach at the Baths and a bigger one up by the parking lot. That one even had a fresh-water pool you could use for free. Overall, the best part of the cruise was the excursions that we booked ourselves.
Back to the cons-  I have not yet addressed my three biggest concerns: money, the casino, and guest services. Let's start with money. Norwegian tries to make an extra buck whenever possible. You have to pay big bucks for things that should be included. We avoided the spa which charged for everything, even for just seeing their cool ice room. The two main activities throughout the cruise were Bingo and "Deal or No Deal." Bingo was very expensive. The first round is free to get you hooked. Then prices range from $29-$49 just to play, and if you win, you barely recover what you paid to play. They also make a lot of money on Instant Bingo, and there are very few winners. On other cruises, game shows have been free. On Norwegian, they play "Deal or No Deal," but you have to pay for a $20 card (or $40 or $60 for multiple cards) just to get a CHANCE at being selected to play. (The cards let you "play along" with the main contestant, but hardly anyone won anything at all by "playing along.") Plus, it's so crowded for these activities, your chance of winning anything is very small. Norwegian is making a FORTUNE on this. You also had to pay for things like bowling, (which only had two lanes and was always in use) pool tables, and arcade games. I was actually quite surprised that fees were not charged for Shuffleboard, Ping Pong, and Karaoke.
I'll try to be brief in regards to the casino. First, I swear that the slot machines were rigged. We never saw even one person win big on the slot machines the whole time we were there. Secondly, the tournaments were a sham. On other cruises, they have a tournament almost every day with the winner getting at least $500. Norwegian was purposefully vague about the rules until people had bought multiple entries the first day. It worked like this, the SINGLE (slot, Blackjack, or Poker) tournament ran the entire length of the cruise. On Days 1-5, if you won your round, your name went on the leaderboard. On the very last day of the cruise, only the top 6 names on the leaderboard were able to advance to the final round in which ONE person from the entire week won $500. The cruise ship made THOUSANDS on the tournament, only giving up $500. In addition, we had a card for free drinks in the casino. While there, it was often difficult to find a waiter, it often took him a long time to return with drinks, and the cruise line "accidentally" put drink charges on our account more than once which required standing in line to rectify the bill. Overall, the casino was a bad experience.
Finally, Norwegian's biggest problem was accounting. The first twenty-four hours onboard, I personally spent six hours standing in line at guest services trying to get an onboard credit that I had called to verify before we ever left home. I had to be passed from purser to purser and explain the story over and over.  While onboard, I had to call my travel company (who said the cruise line should have it) and wait on the phone with them 40 minutes. Only then would Norwegian fill out an "official" report and have someone research the problem. I eventually got the onboard credit, but it took a lot of work and a lot of time when I could have been relaxing on the cruise. In addition, I had to go back to stand in line at guest services almost every day for multiple problems that often resulted in other problems. After returning to guest services a couple of times when members of my party had "issues" with their card (which is essentially a room key and debit card), we figured out that no one from our group of six had the required credit cards attached to their accounts which was the reason for most of the individual problems. This could have been easily fixed if Norwegian had asked for our credit card when we checked in and attached it to our account. (Because they never asked for a credit card at check-in, we erroneously had thought that the cards we had used to pay for the cruise were attached to our account.) We had to go through several people declining our individual cards and then visiting guest services individually before we figured that everyone in our party had to visit guest services and fix this. In addition, I had to visit guest services for issues with our dining plan, for putting the wrong people's charges on the wrong accounts, and for charging us for things we had not bought. VERY FRUSTRATING.
In conclusion, will I cruise again? Yes! Will I cruise again with Norwegian? Heck no! This is the first review I have ever written at any web site online, and I am writing it the day after I returned from the cruise. This should show you how disappointed I was with Norwegian's Escape as a whole. I have heard similar complaints about Carnival, and we've gradually backed away from using them. I've been on tons of cruises with Norwegian, MSC, Carnival, Celebrity, Royal Caribbean. Royal Caribbean was definitely the best, and I plan to return to them next time. (We've also heard that Princess is very good.) 
One final note, Norwegian has an elite area of the ship called the Haven which is only available to passengers who pay a lot more money for these "suites." The Haven has its own restaurant, pool, and club, and has complete access to all of the spa services. If money is not an issue for you, this might be a viable option, but, personally, I would choose another cruise line. We waited for months for this cruise because we just wanted to kick back and relax. With all of the anxiety we experienced, that was hard to do. Usually, I dread having to return to the "real world" after a cruise, but part of me was glad to escape the Escape. I hope this review helps others to make a smarter choice.