May 2016 - Carnival Imagination to Mexico
First Time Cruisers - A Blast!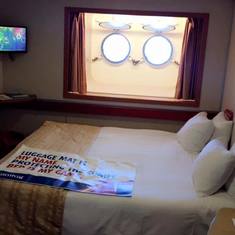 This was my first time going a cruise, at least being 21+, and my boyfriend's first cruise and his first time out of the country. We weren't too sure what to expect on this cruise but we had so much fun. The rooms are clean, comfy and pretty spacious; the portholes were worth the upgrade! There was plenty to do on the boat from the resort pool to the casino to the shows. Unlimited amount of food, and you can even order breakfast in your room for free too! We were pleasantly surprised by the dinners, high end food that was really delicious! We sat with another couple, but there were many different dining arrangements. Catalina Island was a bit boring for us, especially because we were on a budget, but we had a blast in Mexico. The only shore excursion we did was the bar hopping tour in Ensenada and it was worth it! The only thing we wished was that the beach was right by the boat, it seemed you had to go out of the way to find a decent beach. We also wish there would have been an extra day in Mexico. Overall, I would say this is a great trip for first timers or those interested in seeing if cruises are for them! We would go back, but with a bigger group!