October 2016 - Carnival Victory to Caribbean - Bahamas
Windy and rough, but, hey I wasn't at work :)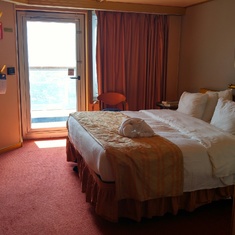 In spite of rather high winds and rough seas, we had a blast!  The change to Grand Turk worked well for us as my husband uses a wheelchair,  It was so accessible and we spent a relaxing time at the pool.  Nassau, not so accessible. Heard lots of complaints about the change and the weather, but when you book a cruise in hurricane season, weather happens and Carnival has no control over it.  
Really no complaints about the food.  We did pay 20.00 for the surf and turf and had a very good meal.  The lobster tail was so tender!!
My only real complaint is the wheelchair accessible balcony cabins are at the front of the ship, about as far away from the elevators as you can get.  Wonder what genius thought of that!
Looking forward to our next cruise!!