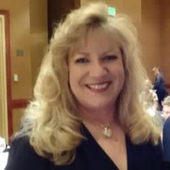 eblackey
Redwood City, CA
Joined 01/2017
Upcoming Cruises
Past Cruises
April 2018 - 7 days on Grand Princess
September 2017 - 7 Night Alaska Inside Passage With Glacier Bay (Seattle Roundtrip) Cruise on Ruby Princess
Alaska or Bust! Ready to Go Again.
This is my second time on the Ruby Princess. She is a beautiful ship. Alaska is breathtaking and should be experienced at least once by everyone. Even if you think you don't want to go there, you will love it. We loved every part of this cruise and would do it again in a heartbeat.
August 2014 - 12 Night British Isles (London Roundtrip) Cruise on Ruby Princess
April 1982 - 3 days on Scandinavian Sea
Cruise Tips
Rainy rainy Ketchikan. Our floatplane excursion was cancelled and by the time we found out, 95% of the other excursions were either gone or sold out. But we made the most of it and went to the Lumberjack show which was fun and entertaining. The ship is not in port for very long so get up early and out so you will have time for an excursion and to explore the town. Despite the rain it was lovely.
Lovely little town. We went on the Yukon and train ride excursion which was worth the money. We saw so much, had a great meal, played with mush puppies. The train ride was brilliant and so scenic - not to be missed.
We took the Best of Juneau excursion and it was fabulous. We saw lots of whales and bald eagles. It was a beautiful day and this was a perfect excursion. We got off the bus just before the ship to do a little shopping in town and it is such a lovely place.
We were unable to dock at this port. The Captain announced that because of winds and tides it would be unsafe to attempt to dock here.
So easy to get into from the airport. Also, this port provides a free service call Port Valet. Just prior to disembarkation day you will receive a form on the ship. Send that and your airline itinerary back and your boarding passes and luggage tags will be sent to your cabin. Port Valet (free) takes your baggage from the ship to your final destination and you never have to see it until you get there. Did I mention this is free? When we got off the ship there was literally a sea of luggage in the port area that somehow you had to wade through to find yours. We didn't - we just walked by, called our Uber (who was delighted we had no luggage), got to the airport and on to San Francisco where, on carosell 2 was our luggage. Magic! And yes, it is free. Caveat: if you are required to pay luggage fees with your airline, that will be charged to your Cabin Account the night before you disembark.
Ruby Princess
Explore the ship the first day so you aren't constantly lost. Keep your map with you (provided) and remember port is left, starboard is right, aft is rear. Try all the restaurants.