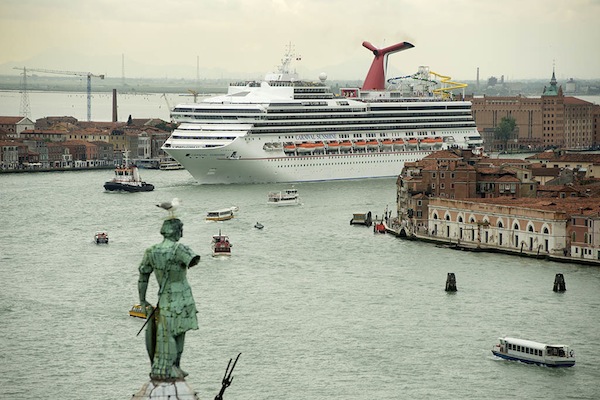 April 2016 - 8 Night Southern Caribbean (Port Canaveral Roundtrip) Cruise on Carnival Sunshine
A little disappointing
Maybe I was a little spoiled by my last two Disney cruises, but I had also been on 2 previous Carnival cruises and several others that were better. The general condition of the ship was OK, but there were obvious things that needed paint or just simple cleaning. Our balcony cabin was cruise ship standard (tiny) with a decent TV, shampoo, 2 bottles of free water for being repeat customers, robes, a hair dryer and little else. We did not help the environment by using our dirty towels again as the ship burned tons of oil a day. The towel animals were lame and there were no chocolates on my pillow. Our cabin guy was polite, friendly and efficient.
The mandatory muster call was the most tortuous ever - over 1/2 hour standing on a very crowded deck while someone read to us intermittently and we were instructed to remain silent. Children cried. 
Internet on the ship varied wildly every day. I never got the basic "social media" package to work. The next step up gave me Facebook and a few web sites, but no email. I was sort of glad.
We were assigned late dining (wanted early); stood in line for 'flex dining' - every night thereafter,1st on line at the 5th deck Taste Lounge for a pager, then at the 3rd deck dining room. Dinners were my favorite- we met some great folks at our shared tables - the food was pretty good and there were some healthy and some interesting dishes. Main complaints were long waits and luke-warm foods (especially salads and breads and cheesecake and the always half-melted ice cream my wife got). Most food on the Lido deck was pretty awful - almost the same thing every day for breakfast and lunch, and none fresh, hot, or interesting. Some people said they liked the burgers and pizza - we weren't impressed - the made-while-you-wait deli sandwiches and burritos were by far the best to me. Try a Reuben.  'Pour your own Frog beer' was good the one day of four I tried to get one and there actually was some in the keg. We did not try the extra $$ specialty restaurants or talk to anyone who did though my wife liked the shakes at "Shakes".
The bars/bartenders were good - fast, accurate and generous. Tipping a little extra makes you feel good and is worth it. Try a 'Giddy Martini'. Take a couple of bottles of wine with you (you're allowed one each, carry on) to save some $$. The best I tried there was a $12 bottle of Kathy Gifford Red that they charge $25 for.
We attended a show or two every night. The 1st night Motown show was great! The same cast the 2nd and 3rd and 4th days... OK - pretty talented - but not as good. Sound system was loud but distorted vocals at times. The magician was lame - neither funny nor magical (beginner rope & card tricks). The comedians from George Lopez' troupe were both a welcome change - professional and funny. Movies on the deck were all for kids and we only saw snippets on a big screen with a few holes.
Kudos to cruise director "Donkey" - youngest we've seen - his energy, enthusiasm, and humor rescued several game show evenings and we were always glad to hear him.
The casino was too smoky for us to stay in more than 1/2 hour at a time. We did go home with $50.50 from the penny (actually 30 cent minimum) slots so I shouldn't complain. The Bingo lady hurried a lot and was completely un-entertaining compared to any we had before (and we lost, as usual).
We went on excursions every shore day - sadly, that was an expensive mistake. Those southern islands are not tropical paradises - more like poor desert suburbs of Phoenix. Curacao is a littered sand dune with a few ostriches; Grand Turk only slightly better but smaller with no litter and wild donkeys and a replica of Freedom 1. Aruba has some nice areas - resorts and casinos - but nothing that you actually did more at than go by and snap a pic. Bring a dollar to use the bathroom. Guests we talked to who went to the beach were satisfied, but we live in Central Florida so a beach isn't exactly an excursion for us.
Overall I was glad to get away and see something new, but I would go someplace else next time on a nicer ship for a few $ more.
PS - we're in our 60s and regular middle class folks - still working and taking our annual vacation.