September 2016 - Norwegian Getaway to Caribbean - Western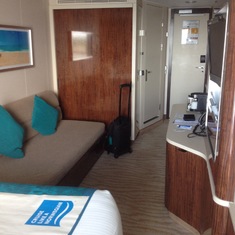 The 4500 passengers on the NCL Getaway did not get in the way of having a good time and access to most activities.  At dinner time, some advanced planning needs to occur as for the complimentary restaurants.  Prime time for dining can find you waiting no more than 20 minutes.  I would suggest trying out Taste or Savor for more quiet dining. And to avoid the masses in the Garden Buffet, these restaurants are open for breakfast and occasionally lunch.
NCL tries to assist the solo traveler and those in the LGBT community an opportunity to meet in the evenings.  Depending on the group, you can usually find yourself with others with whom to dine.  Unfortunately, the solo cabin passengers never get in the solo lounge.  Apparently, unlike on the Epic, this lounge would not especially welcoming as a meeting spot.  I think NCL should rethink this area and copy the success of the Epic. I applaud NCL is recognizing that the LGBT community has money to travel and not all prefer to spend the cruising vacation on a Gay cruise.  The health club was not the especially large size as found on the Epic. Poor design caused the workout area to be very tight and trying to avoid others proved difficult at prime workout times. The pool area was adequate but to be avoided during sea days. If you can hold off on taking a day trip at every port, spend a day enjoying many of the activities poolside. The water slide and ropes course are especially fun as less crowded on port days.  The Spa runs specials and if they don't, just ask them for one.  They will try to sell you many of their products convincing you that your skin needs extra care provided by their brand of creams,etc.
I would travel on NCL in the future as I like the Freestyle Dining and attention to various groups whether LGBT or solo travelers.