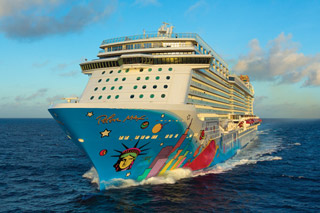 July 2015 - 7 Night Bermuda (New York Roundtrip) Cruise on Norwegian Breakaway
First time family cruisers
We had a good time on the Breakaway for our first time cruise but were happy to return home after a week of overeating & drinking. Norwegian definitely does nickel & dime you for everything. Casino was way too smoky and located in the middle of the ship so you had to walk through it very often. I would have gambled more if not for the constant stench - which also floated into other areas of the ship. Disgusting and so bad for the kids.
Menus were identical in all 3 main dining rooms so there wasn't much choice for food. Most of the food there was better than eating at the buffet. O'Sheenans was fairly good. Noodle bar food was too greasy and not hot enough. Buffet had lots of choices but a lot of the food had little flavor but we still ate thIere every day for breakfast and lunch and some dinners. They clearly want you to pay extra for the specialty restaurants in order to a better selection of food - but I refused since I had already paid about $6000 for the 3 of us. I also dislike that everyone in the room has to buy the drink package. I wanted to just get it for my husband since he is a big drinker and I don't really care to drink -but we ended up getting the drink package for the both of us. So I mostly ordered virgin frozen drinks for myself.
Ship staff was very good. Not obtrusive but very attentive and friendly. Ship was kept very clean. Overly crowded on the pool deck that it kept me away. Got my suntan when we went to Bermuda - which was an awesome island even though it rained part of our stay.
Games (Bringo, Deal/No Deal) are a rip-off. Too expensive and very few people win. We did win $50 but most people won nothing even though they charge a lot to play. Trivia & family games in the Atrium were fun but it was crowded. Probably because they need more activities (free). Very obvious they want you to spend extra money.