February 2015 - 7 Night Eastern Caribbean Getaway (Miami Roundtrip) Cruise on Celebrity Reflection
Second Cruise on Reflection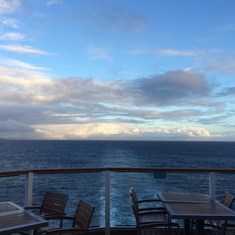 We took this cruise the same week last February and enjoyed it so much we booked it again for this year.  We love this ship.  We have been on two other Solstice class ships and enjoyed them as well.  
The ship is beautiful and clean.  The crew is amazing. From Captain Bouzakis to the  cabin stewards..everyone is so nice and so hard working.  It really does make all the difference. While we have never had a "bad crew" on an ship, there is something special about this ship.  It just makes for a very pleasant atmosphere.         
Some things we love ....
The Bistro on 5 for lunch, especially on sea days.  Cafe al Bacio..great coffee, tea and snacks any time of day! The live music in the atrium each night..Xtasea did a great job.  Tuscan Grill was fantastic and our server Wilmer was the best! The outdoor seating in Ocean View Cafe..love the aft view and that there is plenty of seating.  The beautiful library .  The staterooms are spacious and comfortable and the balcony furniture is very comfortable.The showers are the best..hot water and great water pressure with glass doors.  Our boys had an inside cabin and that was comfortable for them as well.  We were on deck 10 aft.  There are plenty of activities in the Fun Factory for kids of different age groups..3-5, 6-8, 9-11, 12-17. The staff there is great as well.   
A few things  we would like to improve..
More live music and guest musicians.  Guest lecturers ..we miss those and find them really interesting.  The photos seem like a waste of paper and chemicals..i would think with digital photography and the apple TV technology we should be able to just browse our photos on our stateroom TV and choose what we like ..similar to how Disney does their photopass. 
Overall, a great cruise and we can't wait to go back again.