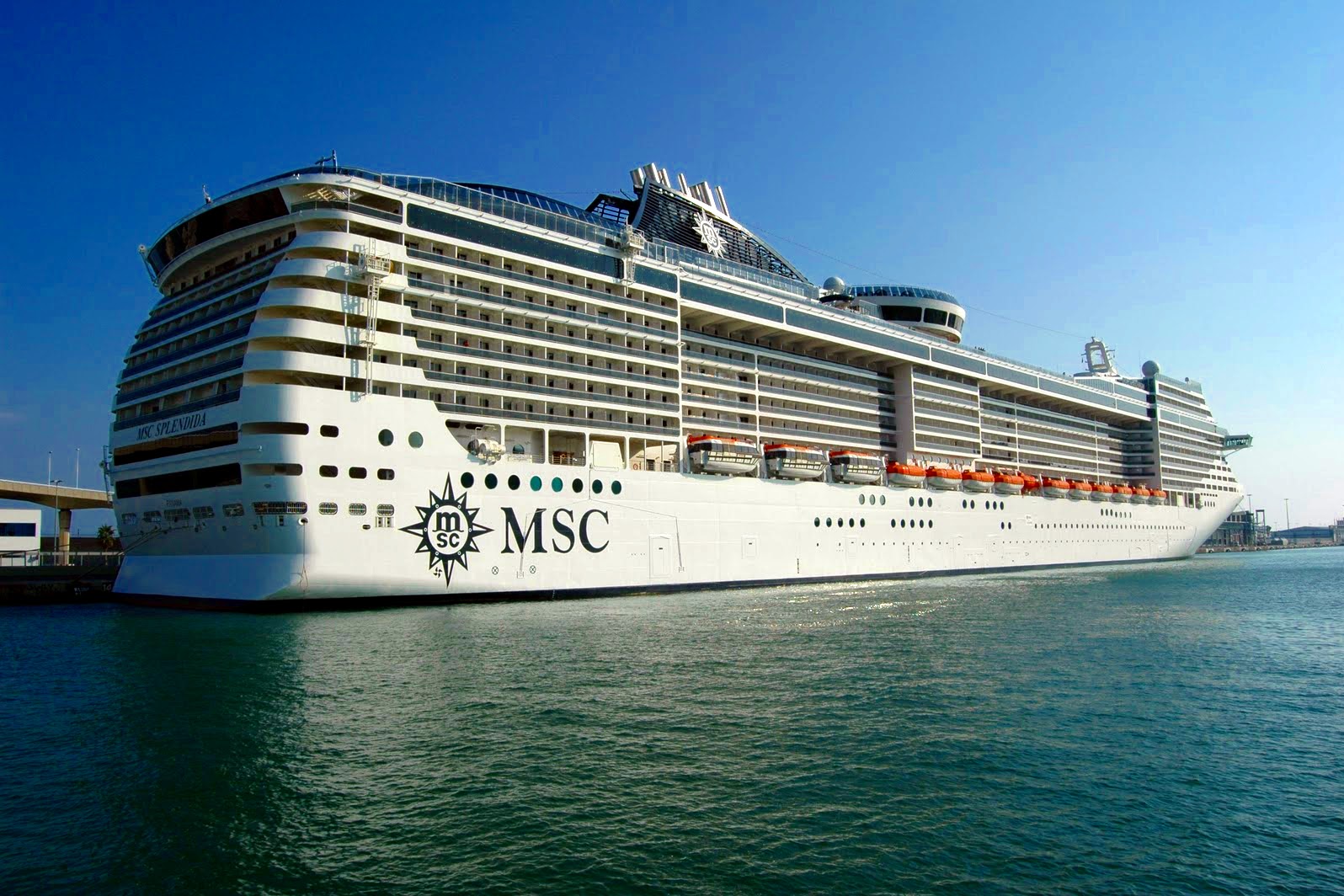 August 2016 - MSC Splendida to Europe - Northern Europe
Below Expectations-Not recommended for English speaking guests
I must start by saying this is the nicest cruise ship we have been on, Except for the orange carpeting in the room, it was beautiful and in excellent condition and with higher quality finishing's than other ships.
Check in was easy, except it was strange that they wouldn't take your credit card information during check in. Instead each cruiser had to go to a kiosk on board to register a credit card for charges.
Stateroom--We had a mini-suite and the extra room was worth it, as we ended up spending a lot of time in the room. The carpet wasn't attractive. The couch couldn't be sat on. It was a sleeper sofa, and when you sat on it, the cushions slid out onto the floor. The balcony was nice, but there was a beam going down the middle, obstructing the view. The closet was spacious, but the doors were narrow and I bruised my arm getting in and out. They only provided shampoo, so you need to bring your own conditioner.
Dining --Let me start by saying I can't eat gluten, however my traveling companion had no dietary restrictions. I notified MSC of my dietary restriction as soon as I booked my cruise and called three weeks before to confirm it was in my record. They confirmed it was and indicated the buffet items would be marked indicating those that were gluten-free and in the dining room there would be a separate menu. Seemed easy enough. I went to the buffet when we got on board and nothing was marked. I went to customer service and she said they should all be marked. I asked what the marking was because I saw nothing. She called someone and was told that they wouldn't mark anything and that I should only eat in the restaurant (which wasn't open). Seems like a change in policy. While I realize there is the potential for cross-contamination, I can use my judgment to determine the risk of eating at the buffet, if they items that aren't prepared with gluten are marked. This is what I have done on all other cruises with no issue. Other cruise lines will actually bring you fresh items if you ask, so you don't have to worry about cross-contamination. Not on MSC. In the dining room, they do have a separate gluten-free menu. However, they have a separate person who takes your order. They don't coordinate with the server for your table, so you aren't served at the same time. More than once, after waiting 20 minutes between courses I just left without eating the main dish, as it never came.   There were a lot of food choices for regular and gluten-free diners. Similar to European restaurants, they don't serve water with meals. So you either need to buy what you want, or buy a beverage package (more on that later).
In the dining room, they make no attempt to seat you by people who speak the same language as you, so there is a lot of awkward silence at the table. I usually enjoy getting to know others on the cruise and the dining room is the best location for this, however not on this cruise.
Room service--warning--they charge per plate, even if they say it is free. The menu is very poorly written. It only mentions charges for the desserts (indented under the dessert indicating it applies to the item directly above it). However, this is for everything on the menu. The portions are tiny, so not a meal substitute.
Housekeeping--above and beyond. Magically had the room done when we returned, regardless of time of day we left. They don't waste towels and time one creating towel animals, which I really appreciated.
Beverage-you pretty much need a beverage service as they don't provide anything in the restaurant to drink. Water, coffee and tea is available in the buffet. The mini-suite package included an unlimited drink package. When I went to get my drink, the server told me I only had a "water package" so I would have to pay for anything other than water. Again at the service desk they said our cards had one of the packages listed, but I actually had a higher level of service. If I hadn't known to ask, we would have spent a lot of money on drinks.
Entertainment-because of the diverse languages, the evening entertainment is very limited to non-vocal music, dancing and acrobatics. The first time it was entertaining, but each night was basically a repeat of the prior act with just a new "theme." New theme meant the costumes changed, but not much else. The program stated no recording, but this was not reinforced in the introduction, or enforced during the program. There were so many people with their screens on video taping the performance, it was very distracting. The other issue was there were so many people who showed up late. They seemed to think it was okay to distract everyone else and obstruct the view so that they could be seated. Rude is same in all languages!
The daily entertainment was very limited. You were basically responsible for entertaining yourself. With so many sea days this was challenging. The TV only had one English station that came in, and you couldn't plug another device into the TV, so it was a waste of space.
Spa--Well laid out and service was great. As on other cruises, the masseuse will try to sell you products, but that is to be expected. Steam room and sauna were nice. Steam room is not very hot and there is a lot of standing water on the floor and seat, so be prepared.
Elevators-they need to work on the programing for the elevators. We would stand and watch elevator after elevator go by (in the direction we had requested) and not stop at our floor. People began just pushing the up and down arrows when requesting an elevator and would get on the first one to stop, regardless of direction. This meant they took up space going down and then back up, further reducing the availability of elevators. It was really frustration. Due to a physical disability, I could not take the stairs, so was forced to wait. The back elevators access is limited, as they have the restaurant in the middle of the ship. Poor planning.
Tenders--they don't advertise which stops require a tender (as other cruise ships do). They let you know the day before, then require you to go to a location to get a ticket to get off the ship. The tickets can be for hours later, as they are only running a couple of tenders. Be forewarned. Even if you have a private tour booked, they won't let you on the tender before your ticket.
Excursions-very limited and overpriced. The communicate upfront that if there aren't enough people speaking your language that you will be put on an English speaking tour. However, what they did was group the non-German speaking guests with the English speaking guests and sent a translator from the ship to translate everything the guide said. This severely limited what the guide could say, so the tours were not effective. The one tour we had that was only English was the best tour with the guide able to give us so much history and background, because he didn't have to stop for the translation.
Disembarkation-fairly smooth except for passport distribution. They took the passports when we boarded. On disembarkation day, the distribution of passports was delayed and started after we were supposed to have been off the ship. There was supposed to be a shuttle to the train station. We looked for signs or employees to ask about this, but couldn't find it, so ended up taking a taxi.
If you are an English-speaking guest, use your judgment when booking with MSC. It will not be a cruise where you get to know other cruisers and will spend a lot of time alone with those with which you are traveling.