May 2016 - 7 Night Eastern Caribbean (Miami Roundtrip) Cruise on Norwegian Escape
Not Freestyle At All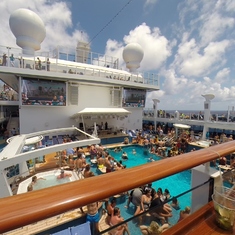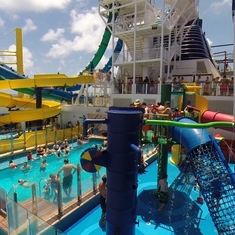 This was our 13th cruise and I was excited about vacationing on a brand new ship for the first time. Parking and getting on the ship went smooth.
What I liked about our cruise: Our Room - The Food was great anywhere you ate, water slides were fun, top brand spirits included in the drink package, and the staff was very friendly. The casino was very nice and one of the best paying casinos I have experienced in a long time. You could actually play on the machines for awhile and win some money.
What I didn't like: The design of the ship floors and especially the pool area. The pool area was way too small and crowded for the amount of passengers on board. It really grossed me out to even want to get in the pool or hot tubs with so many people in them all the time. Every chair on the deck was right up against another chair no room in between them it's so crowded. The TV monitors were on the sides so you couldn't see the screen unless you were in the pool or cranking your head to one side sitting in one of the front chairs on the side of the pool. My husband and I had to stay on the ship on a island day to be able to enjoy the pool and hot tub.
The decor of the ship is gloomy - gray and black - What? The main theater is all black no color, looks like it's needs remodeling.
Specialty Restaurant Reservations: Total frustration when it came to making reservations at the specialty restaurants. We starting making our reservations immediately when we got on board. The majority of times left for most all the restaurants was from 9pm on and some days were not available. After day one forget about changing a time or making a new reservation. It was like being at work trying to juggle the schedule for the week with restaurants and shows.
We won't be back on the Escape because you can't relax and enjoy the pool area and booking reservations for the week was not freestyle cruising at all. The NCL cruise we went on before was much better and did not make you reserve restaurants and shows.
NCL get rid of the reservations and redesign your ship's pool area. Make your casino smoke free - we don't want to play in the smoke and we don't want to walk through it.