9 Night New Zealand (Sydney Roundtrip)
9 Night New Zealand (Sydney Roundtrip)
More About Ovation of the Seas
3.22
Crew to Passenger Ratio
Explore Cabins
Ovation of the Seas has 1996 cabins and 38 cabin categories. See what each category has to offer and read cabin reviews from the community.
Inside
Avg. Cost:
$130 per night
Oceanview
Avg. Cost:
$152 per night
Balcony
Avg. Cost:
$166 per night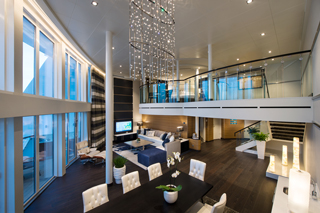 Suite
Avg. Cost:
$325 per night
Ovation of the Seas Features
Explore all 72 on board venues and features.
American Icon Grille
The American Icon Grill serves us the American classics dishes with a twist. Enjoy the sweeping natural landscapes, iconic photography and décor emulating the classic American roadster
Bionic Bar
Mixology meets technology at the Bionic Bar with robot bartenders serving cocktails engineered to perfection.
Arcade
The Video Arcade is a great place where you will find timeless games like Pacman and table hockey, plus the latest - Guitar Hero, Fast and Furious Drift and more.
Casino Royale
Casino Royale is an on-board casino featuring slot machines; extensive table games including Blackjack, roulette, craps, and Caribbean Stud Poker; a bar and lounge area; a sports book; a poker room; and a players'' club.