7 Night Scandinavia (London Roundtrip)
7 Night Scandinavia (London Roundtrip)
More About Sapphire Princess
2.43
Crew to Passenger Ratio
Explore Cabins
Sapphire Princess has 1337 cabins and 32 cabin categories. See what each category has to offer and read cabin reviews from the community.
Inside
Avg. Size:
168 sq. ft.
Avg. Cost:
$130 per night
Oceanview
Avg. Size:
191 sq. ft.
Avg. Cost:
$146 per night
Balcony
Avg. Size:
237 sq. ft.
Avg. Cost:
$181 per night
Suite
Avg. Size:
512 sq. ft.
Avg. Cost:
$249 per night
Sapphire Princess Features
Explore all 62 on board venues and features.
Alfredo''s Pizzeria
There''s plenty of room in the new, expanded-seating pizza venue known as Alfredo''s. They''ll serve you up a fresh, Neapolitan-style pizza tossed right there in front of you.
Calypso Cove
Did you forget your drawers? Stop by Calypso Cove to get some Princess branded gear. And if you''re feeling generous, get your friends and family back home some shiny goodies.
Aerobics
Get your heart rate in the target zone by taking a cardiovascular class. Dont worry--youll forget all about the pain by gazing out the windows at the stellar ocean views.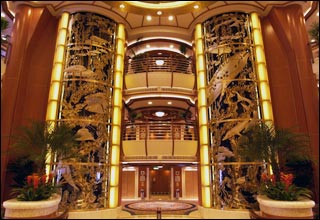 Atrium
Elegant and streamlined, the ship''s welcoming Atrium features two bars, comfortable lounge chairs, shops, an art gallery, and the soft sounds of piano music.