7 Night Norwegian Fjords (Southampton Roundtrip)
7 Night Norwegian Fjords (Southampton Roundtrip)
More About Celebrity Silhouette
2.29
Crew to Passenger Ratio
Explore Cabins
Celebrity Silhouette has 1443 cabins and 31 cabin categories. See what each category has to offer and read cabin reviews from the community.
Inside
Avg. Size:
183 sq. ft.
Avg. Cost:
$163 per night
Oceanview
Avg. Size:
176 sq. ft.
Avg. Cost:
$210 per night
Balcony
Avg. Size:
219 sq. ft.
Avg. Cost:
$234 per night
Suite
Avg. Size:
575 sq. ft.
Avg. Cost:
$524 per night
Celebrity Silhouette Features
Explore all 47 on board venues and features.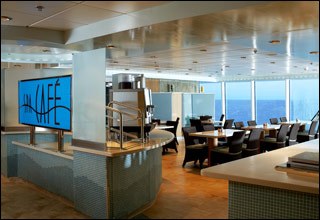 AquaSpa Cafe
With a menu that features delicious, light, health-conscious fare, the AquaSpa Caf is a great way to reward yourself any time of day or night.
Cellar Masters
Inspired by the vineyards of Napa Valley, Cellar Masters brings to life the experience of a global wine tour while you learn about and taste a large variety of wines from around the world. A welcoming and unique on board environment, you''ll discover new wines, receive recommendations and enrich your knowledge of the world of wine.
Acupuncture at Sea
Get porcupined up and feel like a million bucks afterwards. Let''s just hope the seas aren''t too rough while you''re getting stuck.
Card Room
Try your hand at a game of gin rummy or simply take in the lovely sea view in this intimate space.