7 Night Hawaii (Honolulu Roundtrip)
7 Night Hawaii (Honolulu Roundtrip)
More About Pride of America
2.29
Crew to Passenger Ratio
Explore Cabins
Pride of America has 1095 cabins and 36 cabin categories. See what each category has to offer and read cabin reviews from the community.
Inside
Avg. Size:
130 sq. ft.
Avg. Cost:
$268 per night
Oceanview
Avg. Size:
144 sq. ft.
Avg. Cost:
$307 per night
Balcony
Avg. Size:
191 sq. ft.
Avg. Cost:
$371 per night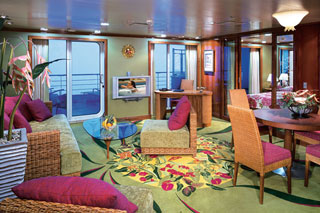 Suite
Avg. Size:
694 sq. ft.
Avg. Cost:
$606 per night
Pride of America Features
Explore all 42 on board venues and features.
Aloha Cafe
This indoor/outdoor buffet-style eatery features food stations where you can order omelets, waffles, fruit, soups, ethnic specialties and pasta. Set against a Hawaiian theme with outrigger canoes, Polynesian carvings and even a kid-sized buffet.
Fitness Center
Get your heart rate up using state-of-the-art machines while enjoying a view through floor-to-ceiling windows. In addition, you can participate in aerobics, spinning and exercise classes.
Basketball/Volleyball Court
Shoot hoops, join a pick up game or play beach volleyball without the sand at the net enclosed, outdoor Basketball/Volleyball Court.
Deck Games
Deck Games which include Outdoor Chess and the Gyrosphere. It''s a great way to meet some of the other passengers.