7 Night Eastern Caribbean (Miami Roundtrip)
7 Night Eastern Caribbean (Miami Roundtrip)
More About Carnival Magic
3.41
Crew to Passenger Ratio
Explore Cabins
Carnival Magic has 1845 cabins and 38 cabin categories. See what each category has to offer and read cabin reviews from the community.
Inside
Avg. Size:
188 sq. ft.
Avg. Cost:
$81 per night
Oceanview
Avg. Size:
226 sq. ft.
Avg. Cost:
$98 per night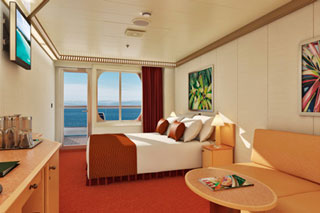 Balcony
Avg. Size:
185 sq. ft.
Avg. Cost:
$119 per night
Suite
Avg. Size:
293 sq. ft.
Avg. Cost:
$187 per night
Carnival Magic Features
Explore all 54 on board venues and features.
Cucina Del Capitano
Italian-American dishes inspired by the recipes from our Italian captains' and officers' childhoods are served up family-style in a comfy, eclectic environment decorated to feel like an Italian country home. Vintage images of our captains and ships adorn the walls, and there's even a Captain's table where you just might see the man himself dine. While the casual pasta lunch is complimentary, the full-service dinner menu is offered at an extra charge.
Beach Pool
Sloped ocean-like entry
Aroma Steam Bath
The moist, warm climate in the Aroma Steam Bath gently but thoroughly cleanses the skin and respiratory tract. The circulation is stimulated, muscle tension relaxed, stress is reduced, limbs and joint pains relieved. Natural herbal steam (sweet odors such as cinnamon, orange or apple) can additionally support the cleaning effect. Similar to the Caldarium, with high humidity and radiant heat (40-50°C) along with the combination of steam and aromatherapy fragrances found in the aroma bath enhances he effect. The therapeutic effect of fragrances and aromas is increasingly becoming more and more important in modern regeneration medicine. Particularly for those suffering from respiratory ailments, it has been proven that the inhalation of lavender, myrrh or revitalizing eucalyptus is very beneficial for the lungs and respiratory organs. In addition, calming essence of chamomile further enhances the process of mental relaxation.
Band Stand
Here you''ll find a variety of bands take stage for your entertainment. Requesting "Piano Man" could result in you walking the plank.