5 Night Asia (Yokohama To Tianjin)
5 Night Asia (Yokohama To Tianjin)
More About MSC Splendida
3.05
Crew to Passenger Ratio
Explore Cabins
MSC Splendida has 1637 cabins and 12 cabin categories. See what each category has to offer and read cabin reviews from the community.
Inside
Avg. Size:
181 sq. ft.
Avg. Cost:
$111 per night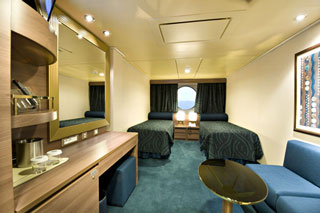 Oceanview
Avg. Size:
212 sq. ft.
Avg. Cost:
$130 per night
Balcony
Avg. Size:
210 sq. ft.
Avg. Cost:
$160 per night
Suite
Avg. Size:
407 sq. ft.
Avg. Cost:
$262 per night
MSC Splendida Features
Explore all 59 on board venues and features.
Bora Bora Buffet
You won''t leave hungry - friendly staff serve a consistent, high-quality offering during select hours here.
Bar Del Riccio
This outdoor bar is a great place to go to grab a drink and watch the action.
Aqua Park
They'll splish. They'll splash. They'll definitely have a blast. Whether they want to zoom down a tube slide or get drenched by tipping buckets or water cannons, kids will have the best of times at our new interactive Kids' Aqua Park.
4D Cinema