4 Night Bahamas (Jacksonville Roundtrip)
4 Night Bahamas (Jacksonville Roundtrip)
More About Carnival Ecstasy
2.89
Crew to Passenger Ratio
Explore Cabins
Carnival Ecstasy has 1028 cabins and 26 cabin categories. See what each category has to offer and read cabin reviews from the community.
Inside
Avg. Size:
185 sq. ft.
Avg. Cost:
$76 per night
Oceanview
Avg. Size:
185 sq. ft.
Avg. Cost:
$88 per night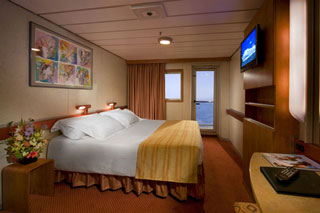 Balcony
Avg. Size:
185 sq. ft.
Avg. Cost:
$133 per night
Suite
Avg. Size:
275 sq. ft.
Avg. Cost:
$163 per night
Carnival Ecstasy Features
Explore all 49 on board venues and features.
Buffet
Eat whatever you like, whenever you like. Stroll around and explore our many international cuisines and made-to-order options, including hamburgers, hot dogs, pizza, salads, roast beef, chicken, fish, broccoli, rice, potatoes, ice cream, cake, pie, cookies... Do we need to go on?
Bar
Our three favorite letters are b, a, and r because they spell bar, which is our favorite place. Here you''ll find whatever wets your whistle.
Aerobics
Take an aerobics class, workout on new gym equipment, pamper yourself with soothing treatments and massages, try a new hairstyle, and treat your husband to the ultimate shave right here. Ahhhhh...Spa Carnival.
Art Gallery
Browse the diverse and stunning array of fabulous artwork.