3 Night Bahamas (Port Canaveral Roundtrip)
3 Night Bahamas (Port Canaveral Roundtrip)
More About Disney Dream
2.74
Crew to Passenger Ratio
Explore Cabins
Disney Dream has 1250 cabins and 31 cabin categories. See what each category has to offer and read cabin reviews from the community.
Inside
Avg. Size:
178 sq. ft.
Avg. Cost:
$306 per night
Oceanview
Avg. Size:
223 sq. ft.
Avg. Cost:
$321 per night
Balcony
Avg. Size:
266 sq. ft.
Avg. Cost:
$346 per night
Suite
Avg. Size:
903 sq. ft.
Avg. Cost:
$758 per night
Disney Dream Features
Explore all 56 on board venues and features.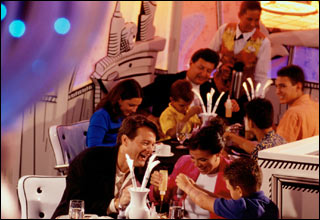 Animator's Palate
Fine food teams up with classic animation in a restaurant that transforms itself from stunning black and white to full color as your meal progresses.
687
A contemporary sports bar located on Deck 4, Aft in The District area on the Disney Dream, is a sophisticated yet friendly venue where families can partake in activities and games during the day, and adults can unwind with a cocktail at night.
AquaDuck
A thrilling 765-foot-long water coaster located at Deck 12, Midship aboard the Disney Dream that propels Guests on an exciting journey up, down and around 4 decks, over the side of the ship and through the Forward Funnel.
Buena Vista Theatre
The Buena Vista Theatre, a large-sized theater, is an elegant cinema featuring plush seats, a giant movie screen and advanced projection with Dolby sound. The theatre screens first-run movies and digital 3-D films.